Iraq: Maliki forces spy on Iranian dissidents, intensify seige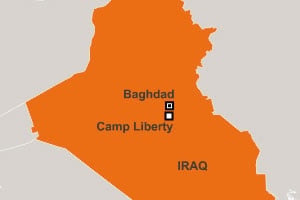 On Saturday night, January 11, 2014, forces under the command of the Iraqi Prime Minister climbed onto the top of Camp Liberty's perimeter walls at various flanks to covertly spy on and take film footage and pictures of different sections of the camp.
These forces are commanded by Ahmed Khozair, the criminal Intelligence Major who in the past four and a half years has played the greatest role in suppression of Ashraf residents. Similarly, in the weeks prior to the September 1 massacre in Ashraf, Ahmed Khozair and criminals under his command staged similar acts, conducting surveillance and reconnaissance on Ashraf's main street, the area where they carried out their raid.

At the same time, Iraqi forces have escalated their suppressive measures against the residents. In recent days, they have used various pretexts to hinder the movement of black water tankers. Since Friday, January 10, they have also been preventing the garbage vehicle from leaving the camp.

Meanwhile, not only are the Iraqi forces preventing replacement of the destroyed and damaged containers with the trailers in Liberty, but they are also preventing the entry of necessary items to repair the containers; this includes even nylon rolls for covering the holes created in the containers.
On Saturday, January 11, 2014, these forces insulted one of camp residents who was driving a utility vehicle, then threw him to the ground and assaulted him. Residents kept their calm despite this savage treatment and transferred the injured PMOI member with wounded hands to the Iraqi clinic of the camp. The clear objective of this treatment was to provoke a clash with the residents to pave the way for a massacre.

Considering the commitment of U.S. government and United Nations to the safety and security of Camp Liberty residents, the Iranian Resistance warns of the intentions of the Iranian regime and the Iraqi government to stage another bloodbath in Liberty and calls for immediate intervention to end the above-mentioned inhumane and tyrannical measures, the provision of minimum security and humanitarian needs in Camp Liberty and the expulsion of criminal agents such as Major Ahmed Khozair from Camp Liberty.
Secretariat of the National Council of Resistance of Iran
January 12, 2014