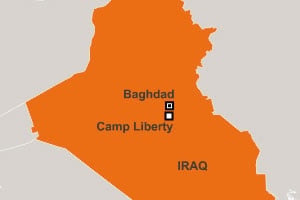 NCRI - For the fourth consecutive day on Wednesday (20 May), the Iraqi agents stationed at the Iranian dissidents refugee camp located near Baghdad International Airport blocked the entry of vehicles to the camp that were carrying supplies needed for installation and maintenance of power generators and water filtration systems.
The measure that obstruct the provision water and electricity for the Iranian residents of Camp Liberty, causes failure of vital systems needed for minimum living condition in the camp.
Iraqi agents that continue to impose an inhuman siege on the Iranians in the camp said that they only would allow food to enter the camp.