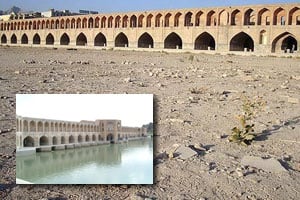 NCRI - Iranian gold merchants in northwestern city of Tabriz continued their strike for the 9th day on Sunday, May 25, protesting tax increase.
In city of Isfahan gold merchants in 'Honar' and 'Majlesi' bazaars, two of the largest gold bazaars in the city, continue their strike.
Gold merchants and jewelry sellers in cities of Isfahan, Najaf Abad, Urumieh and Tabriz went on strike on May 17 in anger at tax increase and the method used by the regime agents to calculate Value Added Tax.
The strikers believe the measure not only will reduce gold sales, but also would make gold lose its function as a capital asset
Meanwhile, rising unemployment, poverty, high prices and the economic policies of the regime have triggered demonstration in cities across the country.
A number of metal dealers in Tehran's Shah Abad bazaar went on strike on Sunday, May 25, protesting tax increase. They refused to open their shops.
Chocolate merchants in Tehran's bazaar protested State Security Forces' repressive measures, tax collection methods and the police rounding up their goods on Saturday. In response they closed their shops and went on strike, going on to hold a protest gathering in the bazaar.
Store owners in Tehran's Aladdin shopping center went on strike on May 21 protesting an increase in the price of monthly rents for their stores.
According to one of the protesters, in just one month their rent prices increased 50 million rials (around $2,000) and currently the rent for a store at ground level in this center has reached 350 million rials (around $14,315) each month. This is while there is a serious recession in this bazaar.
In city of Jiroft, workers at stone breaking factories rallied for the second consecutive day on Sunday outside the regime's governor office in the city. Workers protested low wages and pensions, and the lack of any insurance.
Hundreds of Isfahan residents rallied at the riverbed of dried Zayande River and held a protest gathering. Anti-riot units of the regime attacked the protesters with batons and pepper gas. In this vicious raid a number of people were severely beaten and injured. Many of them were arrested including some injured protesters.
In the city of Soveh, southwest of Tehran, metal factory worker went on strike for non-payment of wages for the past 5 months. The striking workers said: "New Year bonuses have not been paid (after more than two months)." Around 200 workers of the Soveh metal factory held a protest gathering representing more than 1,200 other workers of this production unit. They also said the workers' wages have been decreased by 50% and regime authorities do not pay the workers that work on holidays.
Secretariat of the National Council of Resistance of Iran
26 May 2014