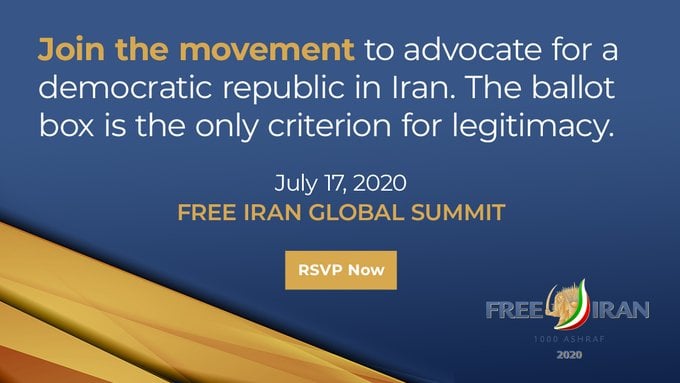 Free Iran, Global Summit
Resistance Units Are the Key to Victory 
July 17, 2020
Participants from 30,000 locations in Iran and more than 100 other countries will gather online in support of the Iranian people's uprising and in support of the Resistance Units. 
Nearly 1,000 prominent figures, politicians, and parliamentarians from around the world will voice their support for the Iranian Resistance, and they will call for a firm policy against the Iranian regime's terrorism, its nuclear program, and its efforts to create weapons of mass destruction. 
The conference will warn about the Coronavirus catastrophe in Iran and the mullahs' cover-up.
The annual gathering of the Iranian Resistance in support of the Iranian people's uprising to overthrow the corrupt and criminal regime will take place on Friday, July 17, 2020. This gathering, which will link simultaneous rallies in major cities in Europe, the United States, and Australia with more than 30,000 connection points, will be the largest gathering of its kind in support of a free Iran.
Due to the Coronavirus pandemic, this year's annual gathering of the Resistance will link together supporters of a free Iran from more than 100 countries in 5 continents. The Iranian Resistance, including those who want to overthrow the ruling religious fascism both in Iran and Ashraf 3 will attend, with participants spanning a 17-hour time difference.
Nearly 1,000 prominent figures, politicians, and parliamentarians from five continents will take part in the rally in solidarity and in support of the Iranian people's quest for freedom, some of whom will address the gathering. Speakers will include Mayor Rudy Giuliani; Senator Joe Lieberman; Michèle Alliot-Marie; Giulio Terzi; John Baird;  Anna Fotyga; former Foreign Ministers of France, Italy, Canada, and Poland; former U.S. Attorney General Michael Mukasey; former French Minister of Human Rights Rama Yade; Ambassadors Robert Joseph, Lincoln Bloomfield, and Kenneth Blackwell; dignitaries such as Ingrid Betancourt and Linda Chavez; and representatives from the European, German, French, and Italian parliaments.
The July 17, 2020 gathering will also pay tribute to the victims of the Coronavirus in Iran and to the medical staff who died trying to aid the Coronavirus patients.
Secretariat of the National Council of Resistance of Iran
July 16, 2020
This gathering will be broadcast live on seven social media platforms in Persian, English, and Arabic. To join the gathering please use the appropriate link and language from the list below:
Persian:
Twitter (Periscope): https://twitter.com/i/broadcasts/1lPKqLjoVyexb
Instagram: https://www.instagram.com/pakeshadiiranntv/
English:
Twitter (Periscope): https://twitter.com/i/broadcasts/1RDxlrbqgYRGL
Facebook: https://www.facebook.com/IranNCR/
Arabic:
Twitter (Periscope): https://twitter.com/i/broadcasts/1OdKrWnvrpwGX
Facebook: https://www.facebook.com/NCRIArabic/
Time: 15:30 pm, local Central European Time (CET)
9:30 am U.S. Eastern Time (ET)