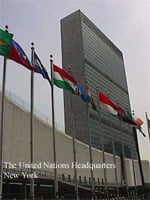 NCRI, Septembre 10 – Mullahs' Foreign Minister Manouchehr Mottaki is traveling to New York to take part in the United Nations General Assembly session, Iranian state-controlled media reported.
The presence of a terrorist criminal in the United States and the United Nations blatantly contradicts U.S. law and U.N.'s objectives.
Mottaki was appointed as ambassador to Turkey in 1985. He has a long record in planning and organizing terrorist operations particularly against anti-fundamentalist Turkish intellectuals and Iranian dissidents abroad. He was directly involved in the abduction of Mr. Abol-Hassan Mojtahedzadeh, an Iranian Resistance activist, in Istanbul in 1988 and the attempt on the lives of Messrs. Mohammad Mohaddessin, NCRI's Foreign Affairs Committee Chairman and Hossein Abedini , a committee member in Istanbul in 1990. Mr. Abedini was shot and critically wounded. He was in a coma for several months and continues to suffer from complications of his wounds.
Mottaki returned to Iran in 1989 and in his position as the Foreign Ministry's legal and international deputy provided service and diplomatic passports to the regime's terrorists. In 2001, he was appointed as Deputy for Communications in the Islamic Culture and Communications Organization, the Iranian regime's principal agency for fundamentalist activities abroad as well as recruiting and training foreign nationals for terrorist groups.
The presence of this terrorist in the corridors of the United Nations undercuts the credibility of the UN as the highest international authority which is supposed to address the grievances of people suffering under dictatorship.
The Iranian Resistance calls for the arrest of Mottaki and his prosecution before a competent international tribunal for his direct role in terrorist crimes against foreign nationals and Iranian dissidents.
Secretariat of the National Council of Resistance of Iran
September 10, 2005