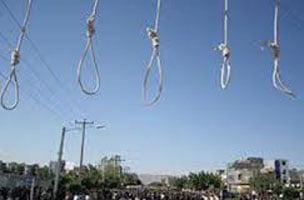 Prisoners under death penalty go on hunger strike
NCRI-Four condemned prisoners at the notorious Gohardasht Prison in Karaj, central Iran, have gone on hunger strike in protest at being sentenced to death.
The prisoners - named as Iraj Ibrahimi, Darush Mohseni, Hamid Raihani and Javad Raissi - are now said to be so ill they have all been transferred to the prison's medical clinic.
Political prisoner sews his lips in protest
In Orumieh prison, in East Azerbaijan Province, Kurdish political prisoner Jaafar Afshari has sewn up his lips and gone on hunger strike in protest at being refused a transfer to Mahabad Prison.  As punishment for his defiance, guards moved him to Orumieh's solitary confinement unit.
And condemned political prisoner Saman Nasim has been transferred from Mahabad Central Prison to Orumieh Prison to await his death sentence after a court in Mahabad found him guilty in July 2011 of being an 'Enemy of God'.
Ascending repression of the Political prisoners by the Regime henchmenPolitical prisoner on the edge of death
In city of Karaj Central prison, 51-year-old prisoner Mohammad Reza Poorshajari is said to have had a heart attack after enduring more than two years of torture and abuse at the hands of guards, which led to his trying to commit suicide.
Since his arrest on September 2010 for the so called crime of insulting the Supreme Leader and acting against government security - for which he was jailed for three years - Mr Poorshajari has suffered multiple life-threatening infections.
Three prison doctors requested his transfer to a special medical center outside the prison after his arteries became blocked and threatened to stop his heart.
Political prisoner attacked in prison
Based on received information from prison, security forces transferred political prisoner in exile, Iraj Mohammadi to a solitary confinement in Zahedan Central Prison, Sistan and Balouchestan Province, despite his severe physical condition. There, he was attacked and brutally beaten by four of the prison gangs on Monday, February 18.
Iraj Mohammadi has been infected to kidney diseases and suffers dizziness and numbness in the left part of his body due to the brutal tortures he has endured so far. Prison security forces have so far prevented him from going to the clinic in order to enforce pressure on this political activist.
Former political prisoner has serious physical condition
Ali Abedi, 63, a religious critic is transferred to Mashhad City's Intelligence Bureau. Ali Abedi, who was also a political prisoner during Shah's government and in the 1980s, was arrested on April 2009 after holding a private ceremony and speaking in memory of those slain in the 1988 massacre of the political prisoners.  More than 30000 political prisoners, mainly supporters of MEK were slain in a few months based on a Fatwa by Khomeini, the then Supreme Leader of the Iranian regime.
Ali Abedi was convicted of "action against the national security" in 2010 and sentenced to six years prison time and 10 years exile to Khalkhal City, Ardebil Province. He is presently in cell no. 4 of Mashhad Central Prison and is in a very serious physical condition.
Political prisoner undergoes violent torture
Political prisoner, Mostafa Farjam, got amnesia due to violent tortures he endured when he was locked up in the Intelligence Bureau in Orumieh City. He is presently imprisoned in cell no. 12 of Orumieh Central Prison and sentenced to 18 years prison time.