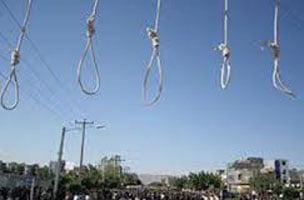 NCRI - Five men were hanged on Tuesday (August 26) in the main prison in city of Bandar-Abbas, southern Iran. One of the prisoners is a Pakistani citizen who had been arrested in Iran for drug related offence.
On Monday, the authorities in Bandar Abbas prison had transferred the five men to solitary confinement to await their execution.
The prisoners were identified as: Edris Hassan Zadeh,35, Sajad Rezapour, 25, Mansour Hetdari, 33, Mohammad Balouch, 55, and Mehdi Hashemi.
Since Hassan Rouhani has assumed office as the president of the Iranian regime, there has been a rise in human rights violations in Iran. Some 800 have been executed in Iran during the past year in Iran, including many in public.