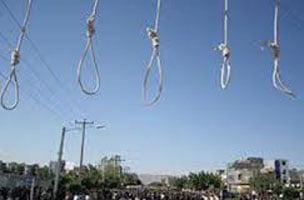 NCRI - The Iranian regime's authorities in a prison in southern Iran hanged a group of eight prisoners on Thursday, August 28, State-run Mehr News Agency reported.
The victims who were identified by their initials mostly had been arrested for drug smuggling.
The report said all the inmates were hanged in the city's main prison.
The number of executions has been on the rise since Hassan Rouhani assumed office as the president of the Iranian regime August 2013.
New wave of executions take place at a time when, hundreds have been subjected to degrading and inhumane punishments such as flogging in public and being paraded in streets. Some very brutally before being hanged.