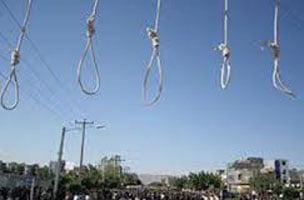 NCRI- A group of eleven prisoners were hanged on Thursday in A prison in Karaj.
The eleven men were between 25 to 40 years old. They have been identified as Mehdi Aalaie, Karim Azizzadeh, Bahram Rezvan Panah, Karim Ghorbani, Davood Karami, Khosravi, Gholami, Islam and Siamak Heydari.
Nearly 800 recorded executions in the first year of Hassan Rouhani's presidency.
The high rate of arbitrary group executions in Iran during the past year shows that the so-called 'moderation' of the Iranian regime is nothing more than a mirage.