THE CONTENT OF THIS PAGE WILL BE UPDATED WITH THE LATEST NEWS
UPDATE: 11:00 PM CEST
Sunday Protests in Iran
On Sunday, September 19, graduated teachers held a rally in front of the Ministry of Education building for the 16th day in a row. A number of these demonstrators who have come to Tehran from different cities of the country also have night sit-ins and spend the night in the same place.
These teachers who are supposed to be employed by the ministry since last year, have held numerous rallies to protest the non-fulfillment of their demands, but officials have failed to address their problems.
On Sunday, September 19, a number of people who fell victim to a scam by the Ghaem Commercial Complex held a rally in front of the Yaftabad Municipal building to protest that their problems had not been addressed. These demonstrators have been paying for years to get their shops open in this commercial complex but they received no service whatsoever and no authority is addressing their complaints.
Today, fuel station owners in Isfahan held a rally for their demands.
Following the dismissal of 150 workers of Ramhormoz Cement Factory by the factory manager, the workers held a protest rally.
On Sunday, employed and retired teachers in Mashhad held a rally in front of the office of the Ministry of Education in their city. The teachers are protesting against their poor living and working conditions whereas the retired teachers also want to increase and equalize salaries.
Retired steelworkers in Khuzestan, Isfahan, and Tehran held a rally on Sunday.
---
UPDATE: 10:30 PM CEST
South Korea Will Not Release Frozen Iranian Funds Anytime Soon
South Korea's deputy ambassador to Tehran said his country is not able to hand over the blocked funds to Iran. According to the state-run Entekhab, Park Soo-Dock, who was referring to the $7 billion frozen funds, said: "So far, we have been able to get only $16 million from the Islamic Republic for its membership in the United Nations and about $50 million from humanitarian items such as medicine."
---
'There Is Chaos'; Iran-Backed Militias Battle Activists in a Holy Iraqi City
KARBALA, Iraq — One night in May, Samira Abbas Kadhim was up late, waiting for her son. She poked her head out of the gate of their small house, looking for him down the narrow street. Five minutes later, as she was in the kitchen, he was shot dead half a block away.
---
UPDATE: 9:45 PM CEST
Drought and Mismanagement Are Killing Iran's Environment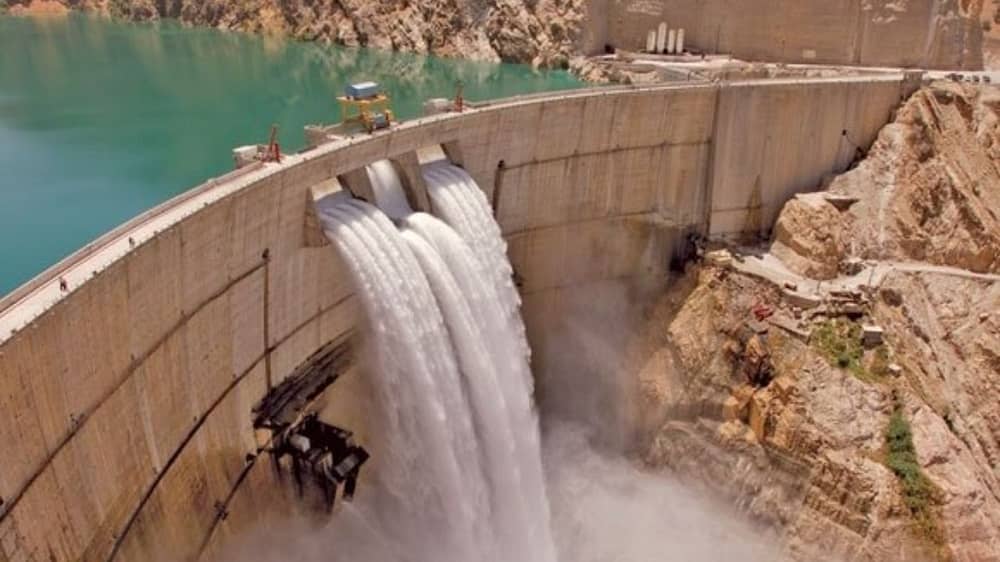 Warning about the critical situation of water and dams in Khuzestan, state-run news agency Rokna wrote: "Khuzestan dams are in critical conditions. According to a report by a Khuzestan water resources expert, drought and mismanagement of water resources have put Khuzestan dams in dire straits. Currently, about 12% of the useful volume of Khuzestan dams is full. But estimates show that by mid-October, the useful volume of Khuzestan dams will reach less than 6%."
The governor of Golestan province also announced that 30% of the area of Gorgan Bay has dried up. According to state media, Gorgan Bay, which covers an area of 400 square kilometers, if dried up, will destroy this valuable ecosystem as well as become one of the largest centers of dust in the north of the country.
---
UPDATE: 9:30 PM CEST
Iran Nuclear Chief Wants Fast Overhaul Of Arak Reactor
AFP via Barrons- The new head of the Atomic Energy Organisation of Iran has said he wants to speed up the conversion of the country's Arak heavy water reactor into a research facility. Under a 2015 nuclear deal between Iran and world powers, the Islamic republic agreed to modify the Arak reactor so that it could not produce military-grade plutonium. "This project must be reconfigured and returned to operation as soon as possible," Iranian media on Saturday quoted Mohammad Eslami as saying during a visit to the site this week.
---
UPDATE: 9:00 PM CEST
Sharq Daily Revealed a Deal Between Raisi and the Parliament
In an article today, the state-run Sharq daily revealed how Ebrahim Raisi struck a deal with the regime's parliament to get an overwhelming approval rate for his cabinet, in exchange for passing everything that is submitted from the parliament to his desk.
The newspaper who's affiliated with the so-called "moderates", wrote: "Although the ministers' obedience to the parliament is desirable, their support for the 13th government strengthened these expectations. But this not only jeopardizes the principle of separation of the branches but also the authority and dignity of the executive."
Sharq added: "Just as when the cabinet was elected, the parliament was extorting the thirteenth government and promised a vote of confidence for the ministers in exchange for a share of the cabinet… They are looking for an unconditioned cabinet."
---
UPDATE: 5:00 PM CEST
Tehran Stock Market in Downfall Again
State-run newspaper Etemad wrote today: "Have the stock market indexes started to fall? The total index of the Tehran Stock Exchange at the end of last week's transactions decreased by 38,000 units compared to the previous week and reached 1,488,000 units. Also in yesterday's trading, the index was accompanied by a sharp drop of 37,991 units compared to Wednesday and fell to 1,450,000 units. During this period, part of the real money that left the capital market, which, of course, experts had predicted, shows that this trend will continue with the uncertainty of the future of the negotiations. In yesterday's trading, for the second day in a row, the net value of the change of legal ownership to the real market was negative and 845 billion tomans of real money left the stock exchange. This number has increased by more than 100% compared to last Wednesday."
---
UPDATE: 3:15 PM CEST
Iranian Boat With Drug Consignment, 7 Crew Apprehended off Gujarat
The Hindu- In a joint operation, the Indian Coast Guard and Anti-Terrorist Squad (ATS) of the Gujarat Police apprehended an Iranian boat off the Gujarat coast carrying over 30 kg heroin worth more than ₹150 crore in the international market. There were seven crew onboard when the fishing boat entered Indian territorial waters after which it was intercepted and apprehended by the Indian agencies based on intelligence inputs.
---
UPDATE: 2:30 PM CEST
Another Innocent Hardworking Father Killed
Another poor 'kulbar' (Persian for those who carry heavy freight for a living) named Omid Mohammadzadeh, a resident from Rabat, West Azerbaijan Province, NW Iran was shot dead by security forces at the Sardasht border on Saturday evening, September 18.
Omid was married and had three children, and he was shot while he was carrying the freight along with a group of other 'kulbars'. Omid's body was transferred to Sardasht hospital but has not been handed over to his family yet.
---
UPDATE: 11:00 AM CEST
Khamenei's Loyal Cleric Expresses Fear of the New Generation
Alam al-Huda, a hardline cleric with close ties to Ali Khamenei, the regime's supreme leader, expressed his fear of the growing hatred of the young generation against the system. According to the IRGC-run Fars news agency, he said: "For the revolution, there is no danger and plague worse than the generational break. This means that today's generation would break with the generation of yesterday and the next generation would also not join today's generation; which will cut the revolution."
Alam al-Huda added: The enemies are the enemy of the revolution, they are not the enemy of the system; they want the revolution to be cut short."
---
Housing Expert: Iran's Economy is Dead
Baitullah Sattarian, a government-affiliated housing expert acknowledged the failed state of the Iranian regime's economy that cannot be saved anymore. Speaking to the state-run Channel two, Sattarian, discussed Ebrahim Raisi's promise to construct one million new houses by the government.
He said: "When the economy has a wrong structure, no matter how much you change the rider, there is nothing you can do. A new rider comes in and says 'I brought a new whip', someone says 'I brought a new saddle'. Man, I'm telling you, this horse is dead."
---
E.U. Parliament Called Iranian Regime Affiliated Hezbollah Source of Instability and Corruption in Lebanon
On Friday, September 17, the European Parliament passed a resolution, declaring that Hezbollah, a group affiliated with the Iranian regime, is one of the causes of instability and corruption in Lebanon.
According to Euronews, the resolution reads: "Hezbollah of Lebanon remains in control of key ministries in the Lebanese government despite a new government being formed after its previous government resigned in the wake of an explosion in the Beirut port that killed more than 217 people, injured thousands and destroyed a swath of the capital city on Aug. 4. 2020."
It also notes that Hezbollah has shown that it has a strong "ideological allegiance" to Iran and is destabilizing the Lebanese government. The resolution also accused Hezbollah of suppressing the Lebanese popular movement in 2019 and blamed the group for the political and economic crisis in Lebanon. The European Parliament, which passed the resolution with 575 votes in favor, 71 against, and 39 abstentions, called on all foreign powers to refrain from interfering in Lebanon's internal affairs and sovereignty and to respect its political independence.
In the same resolution, European envoys warned that if the Lebanese government did not comply with these recommendations, they would be targeted by European sanctions for "obstructing and undermining the democratic political process."
---
Iran: Coronavirus Fatalities Surpass 429,500
The People's Mojahedin Organization of Iran (PMOI/MEK) announced this afternoon, Saturday, September 18, 2021, that the COVID-19 death toll in 547 cities had passed 429,500. The death toll in Tehran has reached 100,866, Khorasan Razavi 34,725, Isfahan 28,450, Khuzestan 26,316, Mazandaran 16,285, Fars 15,414, East Azerbaijan 15,253, West Azerbaijan 15,178, Gilan 14,945, Lorestan 14,510, Alborz 12,573, Qom 11,825, Kerman 11,307, Golestan 9,835, Central Province 7,898, Kermanshah 7,539, Yazd 7,193, Ardabil 5,430, Bushehr 4,854, and South Khorasan 3,786.
#Iran Coronavirus Update

More than 429,500 people have died of the novel #coronavirus in 547 cities checkered across all of Iran's 31 provinces, according to the Iranian opposition PMOI/MEK.

Full Reporthttps://t.co/TycmQsHLvm pic.twitter.com/8UItnfUd9h

— People's Mojahedin Organization of Iran (PMOI/MEK) (@Mojahedineng) September 18, 2021
---
"Khomeini Ordered Us To Execute All of You"—Ex-Political Prisoner Gives Harrowing Testimony in Swedish Court
Friday marked the seventeenth session of the trial of Hamid Nouri, an Iranian regime official charged with torturing prisoners and taking part in the 1988 massacre of thousands of political prisoners. Nouri is being tried in a Swedish court after being apprehended during a trip. As one of the authorities of Gohardasht Prison (Karaj), Nouri is now standing trial in a court where many of his victims are giving harrowing testimonies of how he and other regime officials brutally tortured prisoners.
---
Tehran Reiterates Opposition to UNESCO 2030, Risking New Civilian Backlash
Iran's new president, Ebrahim Raisi, announced this week that the Islamic Republic will not be moving forward with the implementation of the UNESCO 2030 plan for sustainable development. The announcement was, by all accounts, redundant.
Although the previous government had outlined a plan for educational policy in 2017 which took into consideration some of UNESCO's recommendations in that area, the plan was canceled within months following backlash from hardline officials including Supreme Leader Ali Khamenei.
---
Iranian Teachers and Educators Hold Chain Protests in 14 Provinces
Iranian teachers and educators held chain protests in 14 provinces on Saturday, September 18, 2021. Most of the participants were women. Chain protests took place in Tehran, East Azerbajian, Khuzestan, Isfahan, Fars, Alborz, Kermanshah, Qom, Lorestan, Hormozgan, Ardabil, Kohgiluyeh and Boyer Ahmad, Ilam, and Chahar Mahal-o Bakhtiari provinces. Iranian teachers and educators protested their horrific living conditions and incomes.
---
Iranian Bahai Detained in Tehran for Following His Faith
Eighteen days after Baha'i citizen Arsalan Yazdani was arrested, he is still being held in one of Evin Prison's security detention centers. Arsalan Yazdani was arrested on September 1, by security forces in Tehran. He was detained after security forces raided his home and confiscated some of his personal belongings. He was transferred to an unknown location.
In a phone call with his family, Yasdani said that he would probably remain in custody for another two to three weeks.
---
Read more: Iran News in Brief – September 18, 2021