THE CONTENT OF THIS PAGE WILL BE UPDATED WITH THE LATEST NEWS
UPDATE: 8:00 PM CEST
German and Danish Envoys Condemn Human Rights Violations in Iran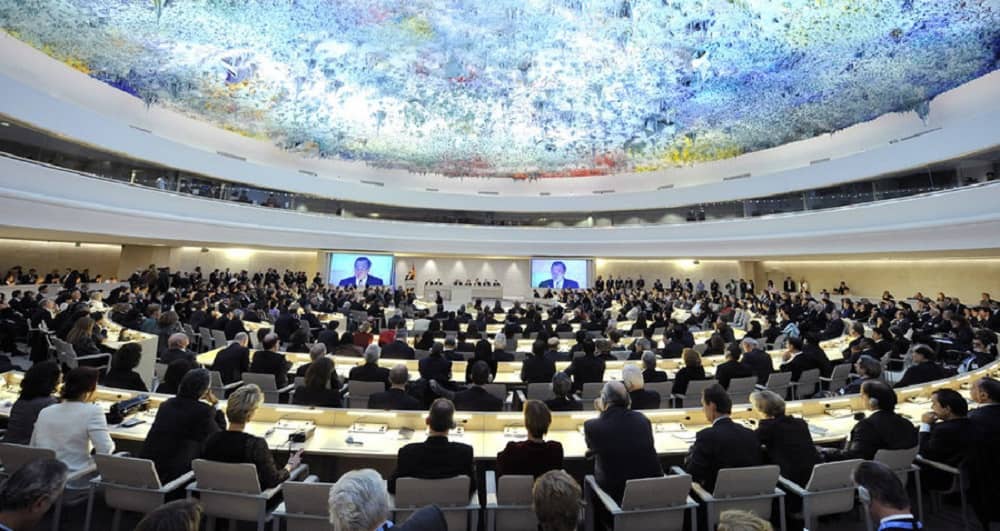 Addressing human rights violations in Iran, the representative of Germany at the Human Rights Council meeting in Geneva said: "In Iran, the violations of women's rights, freedom of expression and assembly continue. We strongly condemn the conditions of detention and continued use of the death penalty, as well as the execution of juveniles."
"The detention, imprisonment, and long-term captivity of protesters and human rights defenders in Iran are of great concern. We demand fair trials and good conditions for prisoners," the Danish envoy told the UN council in Geneva.
---
UPDATE: 2:30 PM CEST
Saturday Protests Throughout Iran
This morning, teachers and retired educational staff held gatherings across Iran in front of government agencies in several major cities. So far, reports from the cities of Tehran, Kermanshah, Shiraz, Abadan, Marivan, Saqez, Bojnourd, Isfahan, Mahshahr, Sari, Kuhdasht, Ilam, Andimeshk, Ashkanan (Fars province), Zanjan, Masiri (Fars), Yazd, Torbat Heydariyeh, Shirvan, Behbahan, Sanandaj, Khorramshahr, Khorramabad, Arak, Ahvaz, Lamerd, Fars province, Yasuj, Izeh, Aligudarz and Noorabad (Mamasani) are a sign of how grave the situation has become at the beginning of the new school year.
مشهد-اعتراض سراسری معلمان با شعار زندانی سیاسی آزاد باید گردد
اهواز-اعتراض سراسری معلمان با شعار زندانی سیاسی آزاد باید گردد
کرمانشاه-تجمعات اعتراضی سراسری معلمین با شعار زندانی سیاسی آزاد باید گردد
On Saturday, workers of IGC Company, working on the Assaluyeh Phase 14 projects, went on strike again as the contractors and employers failed to fulfill their demands. Project workers had pledged to have their wages increased and their working hours dropped.
Since June 20, many workers in the oil, gas, and petrochemical industry in Iran have been on a nationwide strike. Some of the workers who had returned to work upon receiving some promises by the contractors have now returned to strike again.
اعتصاب مجدد کارگران پروژه‌یی شرکت IGC شاغل در فاز ۱۴ عسلویه
Today, a group of retired personnel and current employees of the Homa Airline held a rally in front of the Ministry of Roads and Urban Development, protesting their living conditions.
تجمع کارکنان و بازنشستگان شرکت هواپیمایی «هما»
---
UPDATE: 1:00 PM CEST
Sixth Covid-19 Wave on The Horizon, Iranian Experts Predict
While concerns about an extension of the fifth wave have not yet been settled, some experts foresee that a sixth wave of the pandemic is underway in Iran. Dr. Anoush Dehnadi Moghaddam, Vice-Chancellor of Medical Sciences of the Gilan University said: "Since general vaccination has not yet covered 70% of the population, in case of any negligence, we will face a new outbreak of the disease. The high number of contracting indicates an active transmission chain, and therefore the possibility of a sixth wave peak is not ruled out."
Talking to the state TV, Eshrati, an infectious disease specialist said: "Considering the new variations like Lambda and Mu and their higher contagiousness, we may experience a new peak of the coronavirus."
Highlighting the importance of vaccinations, Massoud Younesian, an epidemiologist and professor of Medical Sciences at Tehran University said: "If we fail to increase vaccinations until 60% of the population is covered, we should be worried about the sixth wave".
---
UPDATE: 12:30 PM CEST
Lebanese Leader Accused Tehran of Violating Lebanon's Sovereignty
Lebanese Maronite Christian leader Bechara Boutros al-Rahi said that the entry of fuel tankers from the Iranian regime under a security authority, the Syrian army, and Hezbollah was an unauthorized act and a violation of the Lebanese sovereignty.
According to Al-Arabiya, after meeting with Lebanese President Michel Aoun at the Baabda Presidential Palace, Bashara al-Ra'i said: "I have talked about Lebanese sovereignty before and now I say that Hezbollah's import of oil from the Iranian regime is a violation of Lebanese sovereignty."
"The Iranian regime's fuel tankers are not allowed to enter Lebanon under the supervision of the Syrian army and Hezbollah security officials, and this is what I called a violation of Lebanese sovereignty and I cannot accept it. The transfer of Iranian oil shipments to Lebanon will make it difficult for the country due to international sanctions," he said.
---
UPDATE: 8:30 AM CEST
Iran: Coronavirus Takes the Lives of 437,400
The People's Mojahedin Organization of Iran (PMOI/MEK) announced on Friday, September 24, 2021, that the Coronavirus death toll in 547 cities had exceeded 437,400. The number of victims in Tehran has reached 102,656, Khorasan Razavi 35,825, Isfahan 29,070, Khuzestan 26,786, Mazandaran 16,445, Fars 15,679, West Azerbaijan 15,533, East Azerbaijan 15,433, Gilan 15,265, Alborz 12,813, Qom 12,005, Kerman 11,607, Central Province 7,988, Kermanshah 7,764, Hormozgan 7,460, Yazd 7,268, Semnan 6,040, North Khorasan 5,654, Ardabil 5,515, Qazvin 4,819, and South Khorasan 3,831.
---
The Iran-Iraq War: How the MEK Ended Khomeini's Eight-Year Thirst for Bloodshed
The Iran-Iraq war officially began when Iraqi Air Force jets bombing Tehran's Mehrabad Airport on Sunday, September 22, 1980. The war lasted for eight years and caused irreparable humanitarian and economic damage to both sides. But tensions that led to the war had been ongoing for several months. Following the 1979 anti-monarchy revolution in Iran, regime founder Ruhollah Khomeini considered two pillars to maintain his rule: domestic repression and exporting the "revolution." Khomeini's policy of exporting the "the Islamic Revolution" (read extremism and fundamentalism), played a key role in the outbreak of hostilities.
---
Warning Signs of a Sixth Corona Peak in Iran
Reports from Iran on Wednesday show a 6.7 percent increase in deaths from Covid-19 and a 36.7 percent increase in the number of people infected by the virus since the beginning of this week. The state-run Tasnim news agency warned on Wednesday about the possibility of a sixth covid peak beginning, reporting that the number of daily cases compared to last week increased by 36.7 percent to 17,564 cases and is again approaching the 20,000 cases per day threshold.
---
Iran's Urgently Needed 'Shanghai Propaganda'
The Iranian regime pretends that its acceptance in the Shanghai Cooperation Organisation (SCO) is a blow to its global sanctions and political isolation and is a victory for the new government of Ebrahim Raisi. "The Membership of the Islamic Republic of Iran in the SCO was a strategic move, and a diplomatic success without a doubt, the Islamic Republic's membership in the SCO actually marks the economic connection for our beloved people." (State-TV News Channel, September 18, 2021)
---
Iranian President's UN Speech Sparks Renewed Calls for His Investigation, Arrest
Iranian expatriates in Sweden held a conference on Tuesday to discuss the criminal background of Iran's new president and to condemn his participation in the United Nations General Assembly that same day. The prior evening, a similar conference was held in Washington, D.C. Both events featured a virtual address by the Iranian Resistance leader Maryam Rajavi, as well as the testimony of former Iranian political prisoners and comments from Western lawmakers who support the National Council of Resistance of Iran and the campaign seeking justice for the victims of Iran's 1988 massacre.
---
Courage Is Contagious
In September 2018, a little know Iranian non-political prisoner saw something that would later cost him his life. Shahin Naseri, 47, was detained on September 17, 2019, and was taken to the Shiraz Intelligence Detention Center in southwestern Iran where he was tortured. As a torture victim, the middle-aged man who had an MBA and was happily married thought it was "his human duty" to report the brutal torture of Navid Afkari, a young protester who shared a cell with him at the Intelligence Detention Center.
---
Read more: Iran News in Brief – September 24, 2021