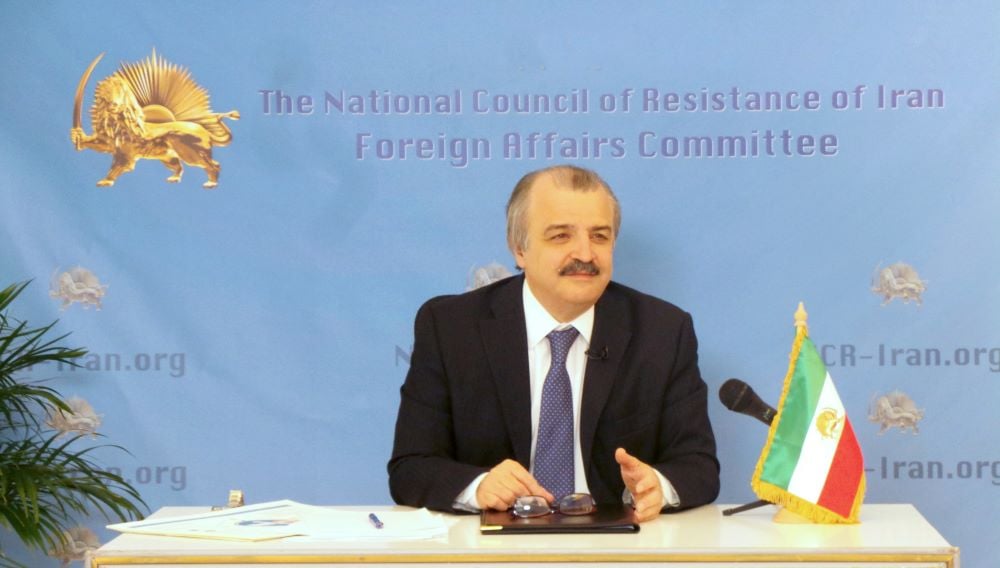 Born in 1955, Mr. Mohammad Mohaddessin, son of a Grand Ayatollah in Qom, was a student at the Sharif University of Technology in Tehran. He joined the People's Mojahedin Organization of Iran (PMOI/MEK) in 1973.
Mohammad Mohaddessin has been a life–long opponent of dictatorship in Iran. The Shah's Secret Police, SAVAK, arrested him in 1975 for his activities with the MEK and sentenced him to 15 years in prison. He was tortured and remained in prison until the shah's last days in 1979. Since then, he has been one of the movement's most senior political officials.
After Khomeini's religious dictatorship started its reign of terror and executions in the 1980s, Mohaddessin, like most other members of the MEK, was forced into exile. He went to Paris, where he was in charge of the Public Relations of the MEK.
In 1993, Mr. Mohaddessin was appointed as the Chairman of the Foreign Affairs Committee of the NCRI.
In 1992, he wrote a book entitled "Islamic Fundamentalism, the New Global Threat," in which he detailed the religious dictatorship's plans to export terrorism, extremism, and wars to Arab and Islamic countries. The book was published in the United States of America the following year and republished again after 9/11 in 2001.
In 1995, Mr. Mohaddessin wrote a new book entitled "Democracy Betrayed," in which he debunked all the allegations and lies propagated against the Iranian Resistance.
In 2004, he wrote another book, entitled "Enemies of the Ayatollahs," the Iranian Opposition's War on Islamic Fundamentalism.
As the NCRI's Foreign Affairs Committee Chairman, Mr. Mohaddessin has met with many leaders and political figures in Western and Arab countries.
Chairman Mohaddessin has participated in many press conferences and media interviews during the past few decades, expressing the positions of the Iranian Resistance. He has also been invited to attend many meetings, conferences, and seminars in the United States and Europe. Mr. Mohaddessin has also written hundreds of articles and conducted interviews with multiple newspapers around the world. Below please find a few of the more recent interviews and articles by Mr. Mohaddessin:
https://irannewsupdate.com/news/iranian-opposition/what-the-international-community-should-do-about-iran/
https://www.dailystar.co.uk/news/world-news/iran-to-continue-nuke-scheme-24192748
https://www.ncr-iran.org/en/news/iran-election/iran-election-2021-mohammad-mohaddessin-iran-presidential-election-is-a-travesty-a-one-man-show/
الشعب الإيراني مستعد لدفع ثمن إسقاط «الملالي» (alyaum.com)
جريدة الرياض | «الرياض» تحاور رئيس لجنة الشؤون الخارجية في المجلس الوطني للمقاومة الإیرانیة (alriyadh.com)
https://townhall.com/columnists/mohammadmohaddessin/2019/06/20/iran-is-ripe-for-change–for-the-better-n2548653
https://townhall.com/columnists/mohammadmohaddessin/2019/01/18/irans-weakening-regime-n2539219
Mohammad Mohaddessin delivery a speachs during The cross-Atlantic… News Photo – Getty Images
https://www.amazon.de/Mohammad-Mohaddessin/e/B001K84Q2E%3Fref=dbs_a_mng_rwt_scns_share
https://www.meforum.org/267/mohammad-mohaddessin-there-is-no-such-thing-as
https://www.ncr-iran.org/en/news/iran-resistance/remarks-by-ncri-s-mohammad-mohaddessin-at-the-free-iran-rally-in-brussels/
https://twitter.com/mek_iran/status/1397450813103091715
https://themediaexpress.com/2018/08/09/as-sanctions-renew-investigation-reveals-iran-terrorist-activities/
https://www.ncr-iran.org/en/news/iran-resistance/remarks-by-ncri-s-mohammad-mohaddessin-at-the-free-iran-rally-in-brussels/
https://www.ncr-iran.org/en/news/ashraf-liberty/mohammad-mohaddessin-s-remarks-on-relocation-of-iran-s-pmoi-from-iraq-to-europe/
Follow him at: @Mohaddessin