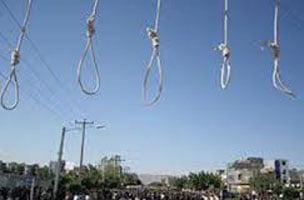 An Italian anti-death penalty group says the number of executions worldwide increased last year due to high number of executions in Iran and Iraq.
The organization Hands off Cain, based in Rome, said Friday that despite a global trend toward capital punishment abolition at least 4,106 people were executed in 2013, up from 3,967 in 2012, due to increases in Iran and Iraq.
Hands off Cain said 12 additional states were considered to have abolished the death penalty in 2013 or so far in 2014.
The Iranian regime continues with the extensive use of the death penalty under their so¬called moderate Hassan Rouhani.
Earlier this year, in a report to the U.N. Human Rights Council, the U.N. Secretary-General Ban Ki-moon said Hassan Rouhani, the president of clerical regime has failed to allow greater freedom of expression and there has been a sharp rise in executions since he has assumed office.