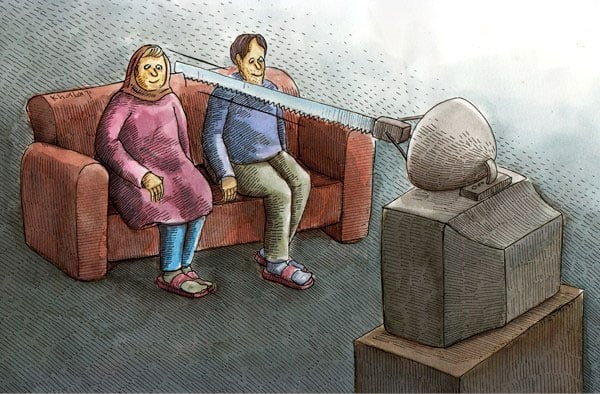 NCRI - The Iranian regime's state-run news agency has published a cartoon depicting 'negative effects of satellite TV on families' as a part of latest unsuccessful efforts trying to dissuade people watching opposition satellite TV in Iran.
The Iranian regime's culture minister said in December 2013 that more than 70 percent of people of Tehran are watching banned satellite channels.
Unable to confront the popularity of prohibited television channels, in particular Simaye Azadi (INTV) that is a dependable source for accessing information and news, the clerical regime acts with severity to limit the access of people to satellite channels.
A deputy commander of the Iranian regime's Revolutionary Guards Corp (IRGC) expressed its fear of satellite TV channels in January and warned members of Basij para-military forces that the "enemy" is trying to affect the public opinion by "creating a negative wave."
He said: "The enemies are aiming to enforce pressure against the Islamic government (the regime) and affect the public opinion by creating a negative wave in the world via news media."
"Strong sanctions and economic pressures imposed on Iran under the pretext of nuclear issue is in line with the same scenario," he said.
Khoramdel said that that the most of damage to the regime during the 2009 uprising in Iran was caused by internet and opposition satellite networks.