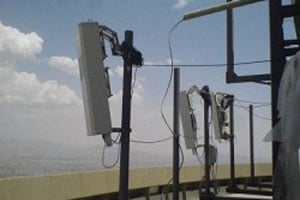 NCRI - Satellite jamming signals used to block opposition TV channels in Iran prevented the regime's weather office from forecasting a dust storm in Tehran in June which killed at least five people.
In a report to the the Iranian regime's parliament, the Meteorology Organization claimed it was unable to forecast the storm due to noise signals caused by jamming devices, the state-run news agency ISNA reported.
 Regime officials had already acknowledged that they carry out signal jamming that have negative consequences.
The massive dust storm that engulfed Tehran last month killed at least five people as 70mph winds sent people scrambling for cover and knocked out power for nearly 50,000 homes, plunging the capital into darkness for several minutes.
Iran's dust storms appear to be growing more frequent and severe. Compared to the past 30 years, the number of dust storms striking the country jumped markedly between 2000 and 2009.
Experts say climate change is not the only cause of the rise in dust storms, but that the regime's agricultural, land, and water management policies also substantially aggravate the environmental stresses that worsen dust conditions.