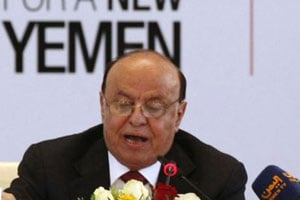 Yemen's president has said the Iranian regime provoking current unrest in his country as Shi'ite Houthi rebels advance on the capital Sana'a.
Yemen's President Abd Rabbo Mansour Hadi said in a statement that Iranian regime was trying to "trade Sana'a for the Syrian capital, Damascus," a reference to the clerical regime's support for Syrian dictator Bashar al-Assad in war against his own people.
The Yemeni president said: "Iran heavily interferes in Yemen's affairs and there are four groups affiliated to it that are working against Yemen, and there are Iranian advisers [working for Houthi leader] Abdul Malik Al-Houthi."
A meeting between the Yemeni president and representatives of the rebels originally scheduled for Thursday was postponed by 48 hours. The U.N. Security Council is scheduled to discuss the current conflict in Yemen on Friday.
Rebel leader Abdel Malik al Houthi demanded this week that the government resign and a new government be appointed. He also insisted that the government back down on a recent decision to raise fuel prices.
Source: VOice of America, Asharq Alawsat