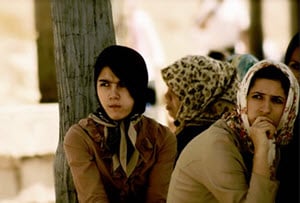 NCRI- Almost 87 percent of Iranian women are economically inactive, announced Vahideh Negin, advisor on women's affairs to the Iranian regime's Labor Minister. Her remarks were reported by the website of the NCRI Women's Committee.
On the anniversary of the adoption of the Labor Law in Iran, in an interview with the state-run news agency ILNA on November 20 Vahideh Negin said there is only 13% of Iranian women's economic participation and "half of them are employed in the unofficial business sector."
Negin said, "If we presume that half of the country's active work force are women, that is 32 million, we will come up with 28 million economically inactive people."
Negin said: "Of the female population above 10 years of age, 18.9% are students, 3.6% have income without jobs, and 60% are housewives. Women's unemployment rate is more than 19% and more than double the men's based on official figures published in spring 2015."
She noted a 26 percent gap between women's employment in services and industry sectors. In spring 2015, only 24 percent of women were employed in the industrial sector, she said. Some 25% are employed in the agriculture sector, and 50% in the services sector.
The Labor Ministry advisor on women's affairs acknowledged that gender segregation is an impediment in employment of women which limits their choice of jobs, reduces their wages and undermines their prestige.
Some officials of the clerical regime have in recent years opposed women in occupation, claiming that it "harms the family."
Mullah Yousef Tabatabaii-Nejad, Friday Prayer Leader and Ali Khamenei's representative in Isfahan, declared on November 18, "It is not a woman's right to work. Man works and provides for the expenses and woman must get her money for the house chores from the man."
(State-run ILNA news agency, November 21, 2015)