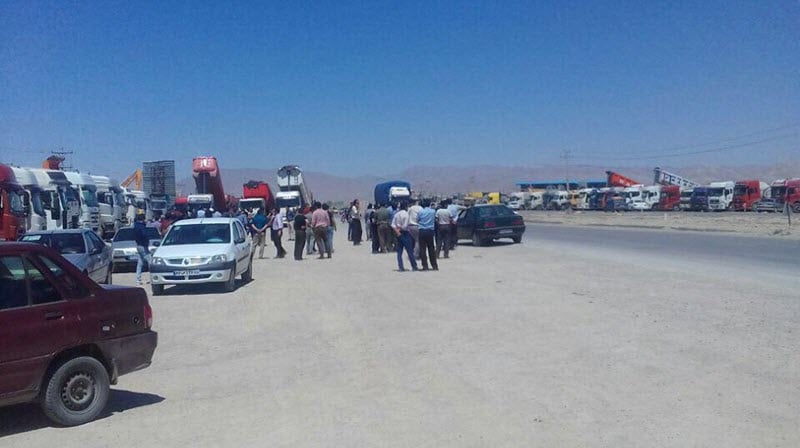 Iran Uprising – No. 170

The strike of heavy vehicle and truck drivers continued on Tuesday May 29 for the eighth straight day. The day before, drivers in Tehran shut down cargo terminals and refused to load goods while chanting: "Do not be afraid, we are all together". Many cargo terminals across the country and in the border areas are semi-closed and inactive.
On the seventh day of the strike, oil tanker drivers in Sanandaj gathered in front of Baharan Oil Company. On Sunday, they spread empty tablecloths on the ground in protest of their livelihood. In Ardabil, drivers staged protest gathering in front of the transportation town. The anti-riot guard and the police lined up against them to prevent them from spreading their protest.
In some cities, taxi drivers and other poor strata have gone on strike to support truck drivers.
https://www.youtube.com/watch?v=DsjHpRnFDLo width="560″ height="315″ frameborder="0″ allowfullscreen="allowfullscreen">
Several members of the regime's parliament members have confessed to the consequences of the catastrophic livelihood of truck drivers: "More than 500,000 drivers across the country express their dissatisfaction and stage gatherings in some cities" (Farhang state radio, May 27).
The heavy vehicle drivers continue their strike while the regime has resorted to deceptive and divisive measures in a bid to end the strike. "According to an agreement, drivers and truckers will resume their work in the freight sector today," said Abdol Hashem Hassan Nya, Deputy Minister of Road and Urban Development, adding, "Representatives of the drivers' guild associations accepted to continue to work and end the strike; … and part of the demands of drivers and truckers … will be pursued." (ILNA state news agency- May 28).
https://www.youtube.com/watch?v=naCKdxhWvNo width="560″ height="315″ frameborder="0″ allowfullscreen="allowfullscreen">
On the other hand, repressive forces have intensified their measures to undermine the strike. Yesterday, hundreds of truck drivers who were moving in a long column to Shiraz and intended to join the strikers of that city were attacked by repressive forces and dozens were arrested. In Kangavar, intelligence agents and the police forces used various measures to break the drivers' strike. In Bandar Abbas, crackdowns on the strikers led to clashes with the police forces. On Monday night, hundreds of striking drivers at the Sepahan Cement Factory in Isfahan prevented loading of trucks under police protection. Police officers were trying to disperse strikers by shooting into air.
Ignoring the desperate measures of the regime, the noble truck drivers continue insisting on their demands.
Secretariat of the National Council of Resistance of Iran
May 29, 2018