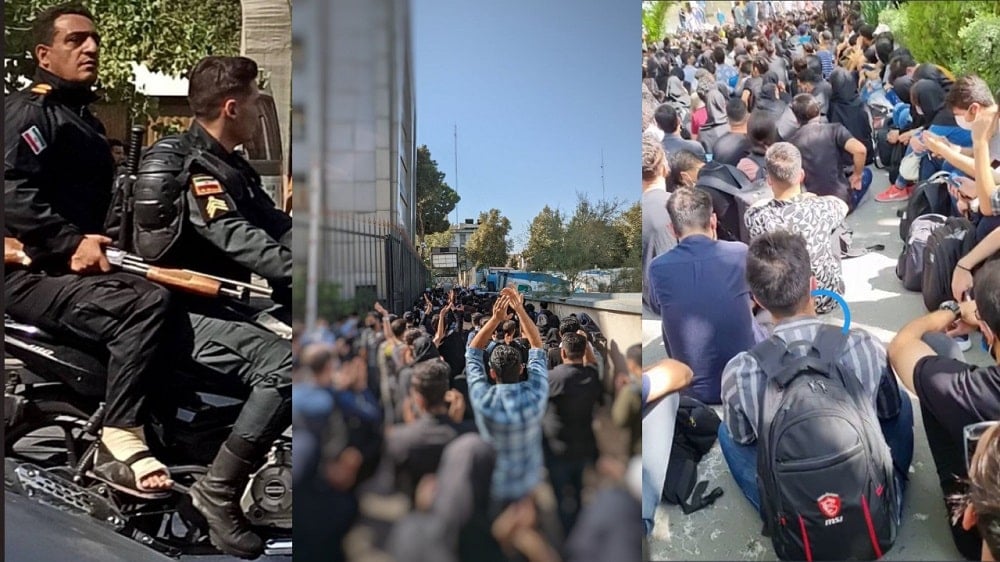 Iran Protest-No. 33

Students Chanting: "From Sharif to Kurdistan, Students Are in Prison," "The Imprisoned Student Must Be Released"
Marking the 18th day of the nationwide uprising and following the heroic confrontation of Sharif University of Technology's students with the regime's suppressive forces, dozens of universities in Tehran and cities across Iran staged protests on Monday, October 3, in support of Sharif University of Technology and the nationwide uprising, chanting "Death to the dictator!"
Some of the universities where protests took place include Tehran University, Science and Technology University, Meli University, Tarbiat Modares Tehran, Khajeh Nasir Tehran, Amir Kabir, Tehran Azad University, Ferdowsi Mashhad, Mashhad Azad University, Mashhad Sajjad Industrial University, Urmia University, Qom University, Ardabil University, Pars Abad Ardabil University, Semnan University, Isfahan University, Isfahan Industrial University, Najaf Abad University Isfahan, Kurdistan University, Razi Kermanshah, Kermanshah Veterinary Medicine, Natural Resources University, Birjand University, Khorasgan Azad University, and Sanandaj University of Medical Sciences.
Students at Tehran University chanted, "Haider, Haider, is your slogan; committing the crime is your honor." Meli University students were chanting, "Hossein, Hossein is your slogan; killing the people is your assignment." The students of Tarbiat Modares in Tehran protested since this morning, chanting, "The imprisoned students must be freed." They also chanted, "Freedom is our right, Sharif is our code name," and "Iran has become a war front; are you an enemy or a compatriot?" Students in Khajeh Nasir Toosi University expressed their anger and disgust with the last night's attack on defenseless students by the State Security Forces (SSF) and Special Anti-Riot Units, chanting "Death to the mullahs!" and "Shame on our disgraced police!"
Students at Isfahan University of Science chanted, "Hossein, Hossein, where are you; Yazid has become an IRGC member!", in Mashhad, Ferdowsi University students emphasized their determination to continue the uprising until the overthrow of the mullahs' dictatorship, changing: "This is no longer a protest; it is the beginning of a revolution!" They also expressed their solidarity with Sharif University students and chanted, "Sharif is soaked in blood!" Students at Shiraz University chanted, "You killed the Sharifis, and you are telling us to shut up!" In Tabriz, students clashed with the police, who opened fire on them. Medical students of Kurdistan chanted, "From Sharif to Kurdistan, students are in prisons!" In the universities of Yazd, Zanjan, and Urmia, despite the heavy presence of security forces, students protested and chanted, "The imprisoned student must be freed!"
Last night, on the 17th night of the uprising, dozens of areas in Tehran, including Sattarkhan, Tehranpars, Shariati, Imam Hossein Square towards Teymouri, Piroozi, Valiasr, Resalat, Sadr Highway, Niayesh Highway, and Keshavarz Boulevard were the scenes of night demonstrations and clashes with the suppressive forces. Simultaneously, many cities, including Isfahan, Karaj, Arak, Sanandaj, Mashhad, and some cities in Sistan and Baluchistan Province were scenes of demonstrations and confrontations between rebellious youths and the suppressive forces.
In addition to universities in many cities, high school students demonstrated against the regime in support of Iran's nationwide uprising. For example, in Shiraz, high school students chanted, "Death to the dictator!" and "Mullahs must get lost!" In Mehrshahr of Alborz Province, west of Tehran, female high school students chanted "Death to the dictator!"
Concerning today's protests by university students across the country, Mrs. Maryam Rajavi, President-elect of the National Council of Resistance of Iran (NCRI), said in the wake of Sharif University students' bold confrontation with the regime's forces, students throughout Iran held protests in support of Sharif University against the criminal clerical regime and defied their rule. Unity and the continued struggle of courageous students is the key to victory, she added.
Secretariat of the National Council of Resistance of Iran (NCRI)
October 3, 2022