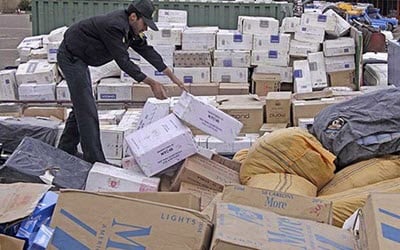 NCRI – On February 1st 2017, the state-run Resalat Newspaper has a headline about the confessions of the Minister of Economic Affairs and Finance in the Parliament of Iran. The news reads: "the reports of the Iran's Central Task Force to Combat the Smuggling of Commodities and Currency shows that the majority of contrabands i.e. 70 percent of those are imported into the country from the official ports under customs supervision."
The newspaper writes: "the Ministry of Economic Affairs and Finance attended the Parliament and stipulated that trafficking, as well as excessive imports, could be a serious threat to the production and employment condition of the country."
According to the state-run news agency IRNA, the President of the Iranian regime, Hassan Rouhani on 13th of February 2016 had a conflict with the Iranian Revolutionary Guards Corps (IRGC) and implicitly accused this organ of corruption and smuggling in Iran without naming it. He stated: "when the production is going to increase, a factor of corruption and smuggling does not allow the process in Iran. It actually impedes the improvement and prosperity in the country."
Rouhani in an implicit remark to IRGC slammed this organization for corruption in the country.
In such circumstances, the commodities are smuggled into the country to an amount of 25 billion dollars annually. It is surprising that some authorities of the Iranian regime have announced that this figure even reaches to 30 billion dollars in a year. More than 90 percent of cell phones are smuggled into the country i.e. 1 million and 300 thousand mobiles.
Nearly all clothes are imported and 500 million square meters of fabrics are smuggled into the country as well. In Health and Beauty section, more than 2 billion and 600 million dollars products are smuggled into the country in which most of them are fake.
The sheer volume of trafficking shows that smuggling has been fully established in government organs and it is controlled by the organs affiliated with IRGC.