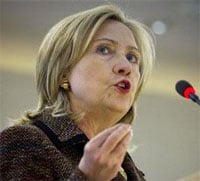 VOA – David Gollust State Department  February 28, 2011
Secretary of State Hillary Clinton, in an address to the U.N. Human Rights Council in Geneva that was otherwise devoted to Libya, said the U.N. agency should investigate rights abuses in Iran. She called for an end to what she termed an "organized intimidation campaign" against Iranian dissidents.
Clinton used her speech to the special Human Rights Council session on Libya to again point out the contradiction between Iran's stated condemnation of violence in Libya and its ongoing crackdown on dissent at home.
She said the success of peaceful protests in the Middle East has discredited regional extremists and "exposed the bankruptcy" of their argument that the only way to achieve change is through violence and conflict.
"Iran, for example, has consistently pursued policies of violence abroad, and tyranny at home.  In Tehran, security forces have beaten, detained, and in several recent cases killed peaceful protesters, even as Iran's president has made a show of denouncing the violence in Libya."
Clinton cited sanctions the Obama administration imposed last week on key Iranian officials linked to human rights abuses, and said the United States is proud to be co-sponsoring with Sweden a proposal that the U.N. Rights Council name a special investigator for Iran.
She said Iranian human rights advocates are demanding such a move to raise pressure on the Tehran government, and said it is a "seminal moment" for the council and a test of its members' ability to work together to advance its stated goals.
"Indeed every member of this council should ask him or herself a simple question.  Why do people have the right to live free from fear in Tripoli, but not Tehran? The denial of human dignity in Iran is an outrage that deserves the condemnation of all who speak of freedom and justice."