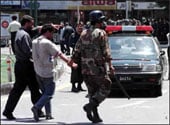 NCRI – The clerical regime's security chief in Tehran announced that in the first three phases of enforcing security in the capital, some 15,000 people were arrested.
Quoting Revolutionary Guard Reza Zarei, commander of State Security Forces in Tehran, the Aftab state-run daily reported on Tuesday that the fourth phase of security enforcement program will concentrate on dealing with hooligans, a reference to young people who are at the core of protests in the capital as well as other parts of the country.
Hundreds of young people and students have been protesting in the city of Yassouj, central Iran, in recent days against high unemployment. In attacks by suppressive forces dozens of protestors have been arrested and the clerical prosecutor has called for their severe punishments.
12 of those who are still in detention are students from Yassouj Open University and are being charged for acting upon the orders of counter revolutionaries, a term used for the main opposition, the People's Mojahedin of Iran.
A large number of Revolutionary Guards are currently patrolling the streets to prevent further outburst of public unrest in the city.