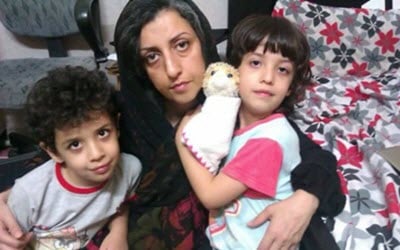 NCRI – An Iranian political prisoner, who was until recently on hunger-strike in Tehran's notorious Evin Prison, has issued a statement in which she detailed the oppressive nature of Iranian prisons.
Narges Mohammadi, 44, reinforced the fact that the regime's kangaroo courts are imposing severe punishment on political prisoners; separating families, enforcing solitary confinement and providing inadequate living conditions.
Her message, released on July 23, read: "I protest against oppression and the limitations on the prisoners. These constraints and this unrelenting pressure are implemented as soon as the accused person is imprisoned in solitary confinement. This is the typical instance of psychological torture."
She reveals that female political prisoners are not allowed to use the phone in their ward, despite two-thirds of the 27 inmates being mothers and explains how she grieves for her children, who have now fled Iran, and how she wishes she could speak to them again.
The letter states: "My dear children, Kiana und Ali left Iran on July 16, 2015."
She added that she began a hunger strike on June 27, 2016 because she was deprived of talking to her children on the phone.
Her hunger strike was also in protest of the human rights violations suffered by political prisoners and its double oppression of women and mothers.
Inside the notorious Evin Prison's political prisoners' ward, Mohammadi explains that some parents are serving time simultaneously which leaves their children without guardians.
She added: "In the meantime, the total strictness exerted to the political-ideological prisoners is blatantly seen all across the country."
She ended her hunger strike after she was finally allowed to make a telephone call to her children but she said she will never stop her protests for human rights in Iran.
She said: "The Iranian authorities are well aware that the recognition of human rights in Iran is a serious demand… human rights are not abstract concepts; instead, they have been intertwined with the ideals of the Iranian nation and in the case of violation or negligence, the people express discontent."
In September 2011, Mohammadi, a lawyer by profession, was initially sentenced to 11 years' imprisonment for "acting against national security" and "propaganda against the state" among other charges. In March 2012, her sentenced was reduced to six years, and she was released on bail three months later.
In May 2015, she was again arrested, despite concerns about her deteriorating health, to serve the remainder of her sentence.
In May 2016, while in prison, the regime's so-called 'revolutionary court' in Tehran sentenced Mohammadi to a further 16 years behind bars.
The mullahs' kangaroo court found Mohammadi guilty of establishing and running a human rights movement that campaigns for the abolition of the death penalty.