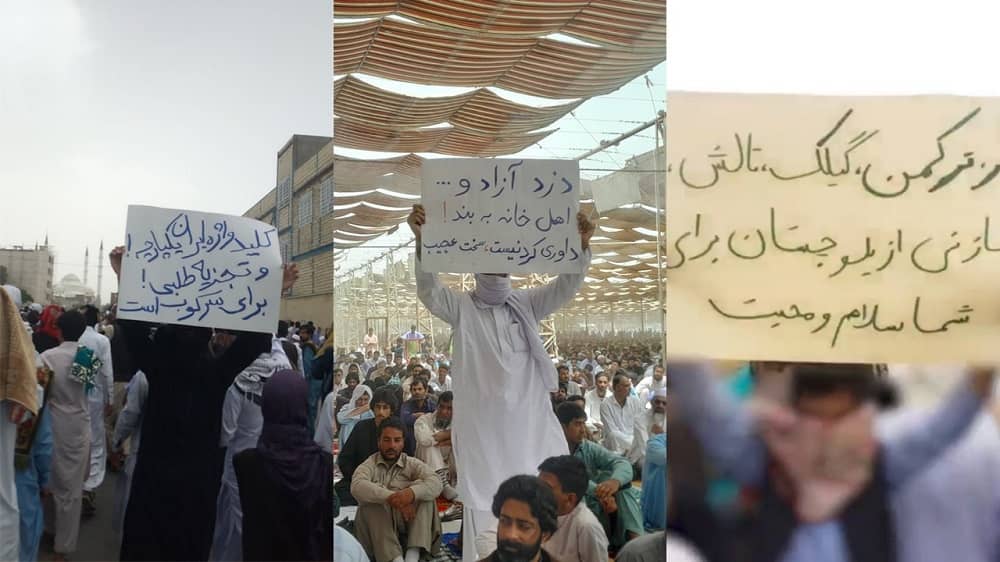 THIS PAGE WILL BE UPDATED WITH THE LATEST NEWS
UPDATE: 1:30 PM CET
Iran Sending Russia Materials To Build Drone Manufacturing Plant Near Moscow
United States officials believe Iran is sending Russia materials to build a drone manufacturing plant east of Moscow to produce more Iranian drones to use in Ukraine. The intelligence was made public by the National Security Council's Coordinator for Strategic Communications John Kirby on Friday.
"As of May, Russia received hundreds of one-way attack [unmanned aerial vehicles], as well as UAV production-related equipment, from Iran," Kirby said.
"We are releasing a graphic that shows how Iranian drones are being transferred to Russia: the drones are built in Iran, shipped across the Caspian Sea, from Amirabad, Iran to Makhachkala, Russia, and then used operationally by Russian forces against Ukraine," Kirby added.
---
Police Open Fire on Van, Fatally Shooting 9-Year-Old Child
In a deeply tragic incident, the Iranian regime's forces in Shushtar, Khuzestan Province, fired upon a van without prior warning, resulting in the death of a 9-year-old child named Morteza Delf Zargani.
According to media reports, Jafar Delf Zargani, the father of the child, recounted the horrifying incident, stating that the police car opened fire on their vehicle without any warning signals or sirens. The bullet struck their 9-year-old child, causing his immediate death.
Delf Zargani further expressed his shock, revealing that they had been told about the arrest of the perpetrator, but were still unaware of the individual's identity. The grieving family is seeking clarity and justice in this heartbreaking situation.
Jafar said: "When I saw the police car behind us, I wanted to stop, but without any warning and without a warrant, our car was suddenly fired upon. Morteza only looked at me, smiled, and died on the spot."
---
Over 30 Family Members of Uprising Martyrs Arrested in Iran
Reports have emerged stating that state security forces detained more than thirty individuals from the families of martyrs who lost their lives during the popular protests of Sanandaj, Diwandara, and Dehgolan. The arrests occurred on Friday, June 9, when these family members had gathered at the gravesites of their loved ones in Saqqez and Bukan. The regime's forces apprehended these individuals as they were returning from the commemorative event.
The detainees in Saqqez include multiple children aged between 4 and 16 years old, highlighting the broad scope of the arrests. The oppressive actions of the regime have led to growing concerns about human rights and freedom of expression in the Kurdistan region.
---
UPDATE: 9:30 AM CET
Raisi Urges Fellow State Officials to Cease Revealing Regime's Shortcomings
On June 8, in his recent trip to the Northwestern city of Tabriz, the Iranian regime's President Ebrahim Raisi slammed other state officials that continue to expose the regime's state of misery and called on them to align themselves with the Supreme Leader Khamenei.
"During a comprehensive analysis of the recent disturbances, the Supreme Leader expressed that the country is making advancements," Raisi boasted during his speech. "But certain individuals question this progress. While the enemy officially admits, while the White House spokesperson admits the failure of maximum pressure and sanctions against Iran, why are you people getting sad? We went to inspect several centers in Tabriz to see what has been undertaken… I'm just talking about [developments in] Tabriz. Isn't this progress? Why are some people failing to see these things?"
He added: "The robustness of Iran is exemplified by its missile production and the Fatah [missile] development. We witness this production in various locations within Azerbaijan, skillfully carried out by esteemed manufacturers and economic entrepreneurs. I'm addressing some individuals, despite facing sanctions, Iran's trade has broken records which is unprecedented in the past four decades. Iran's trade is now 53 billion dollars. The enemy didn't want this but despite the enemy's will, the progress was made. They didn't want our production [to increase]. They didn't want our production centers to be active. They didn't want us to make progress."
---
The 11 UK Universities Accused of Helping To Develop Iran's 'Suicide Drones'
The University of Cambridge is among almost a dozen UK universities accused of helping to develop Iran's weapons including "suicide drones". Britain bans the export of military technology to Iran as well as "dual use" technology which can be used for both civilian and military applications. The Government has also recently imposed fresh sanctions on Iranians supplying Russia with kamikaze drones being used in Ukraine. However, an investigation has revealed that researchers in the UK have helped the Iranian regime to develop sophisticated technology that can be used in its drone programme and fighter jets.
---
Iran's Butcher President Raisi Heads to Venezuela, Cuba, Nicaragua
Iranian state news agency IRNA announced on Wednesday that Raisi and his delegation will seek to strengthen relations with the "friendly" Latin American countries without issuing further specifics. The trip, allegedly organized at the official invitation of all three regimes, marks Raisi's first tour in the region. Prior to Raisi's upcoming Latin American trip, Iranian Foreign Minister Hossein Amir-Abdollahian visited the countries in February, seeking to deepen Iran's ties with its authoritarian Latin American allies.
Raisi assumed the presidency of Iran in August 2021, succeeding Hassan Rouhani. Raisi has openly defended his participation in a series of mass executions of between 5,000 and 30,000 Iranian political prisoners that took place in the Islamic Republic in 1988 when Raisi was the nation's deputy prosecutor general, claiming that he was a "defender of human rights."
---
Time for Western Democracies to Stand with Iranian People
Iran has been rocked by anti-government protests for years but the uprising that began in September 2022 is fundamentally different. With citizens taking to the streets, they are now demanding not only specific political and economic changes but rather a complete overhaul of the ruling regime itself.  These protests have been met with violent crackdowns by authorities, which have resulted in hundreds of deaths and thousands of arrests. The executions of detainees have come in waves, with at least 130 beautiful young lives taken in since April 21 alone, including three young protesters on May 18.
---
UPDATE: 7:30 AM CET
Brave Baluchis Renew Iran's Anti-Regime Protests
Brave Baluchis in the restive city of Zahedan, the provincial capital of Sistan & Baluchestan in southeast Iran, have taken to the streets yet again this Friday in new anti-regime protests and rejection of any kind of dictatorship in their country. These protests are continuing the Iranian people's uprising against the mullahs' tyranny as brave youths in other cities have been launching daring attacks targeting the regime's security and so-called judiciary sites. People throughout Iran continue to specifically hold the mullahs' Supreme Leader Ali Khamenei responsible for their miseries, while also condemning the oppressive Islamic Revolutionary Guards Corps (IRGC) and paramilitary Basij units, alongside other security units that are on the ground suppressing the peaceful demonstrators.
---
International Delegation's Visit to Qarchak Varamin Prison Shrouded in Media Silence
TEHRAN, Iran — In response to the domestic and international outrage against the Iranian regime's brutal treatment of incarcerated women, including those held at Qarchak Prison in Varamin, the clerical regime arranged a carefully staged visit of diplomats from select countries to conceal its crimes, as it has done in previous years. According to the state-run Mizan news agency, an outlet linked to the regime's Judiciary, ambassadors and diplomats from 28 countries, along with representatives from so-called international organizations, formed a 36-member delegation that visited Qarchak Prison on Wednesday, May 31. Meanwhile, recent reports from inside Qarchak Prison describe the deplorable conditions as "extremely unsanitary, inhumane, and intolerable."
---
More Than 1,200 UK City Council Members Support Iran Protests and Maryam Rajavi 10 Point Plan
1,200 UK City Council members support Iran protests
More than 1,220 City Council members from 270 cities across the United Kingdom have issued a joint statement voicing their support for the Iranian people's anti-regime uprising and the ten-point plan of Iranian opposition coalition NCRI President-elect Maryam Rajavi for a free and democratic republic in Iran.
The signatories emphasized their solidarity with the Iranian people and stood shoulder to shoulder with them in their struggle for a democratic republic based on the separation of religion and state, in which no individual enjoys privileges over others based on family relations or religion.
---
Maryam Jalal Hosseini Remains in Detention, Deprived of Medical Care
Despite the passage of one month, Maryam Jalal Hosseini remains in detention in Qarchak Prison without standing trial. The imprisoned teacher is experiencing gastrointestinal problems due to the lack of medical care. Ms. Jalal Hosseini's health deteriorated after her hunger strike, but she has been deprived of medical care in Qarchak Prison. On May 28, 2023, Ms. Jalal Hosseini started a hunger strike to protest her detention in Qarchak Prison and demanded to be transferred to Evin Prison. She ended her hunger strike after seven days.
---
Atena Farghadani, a Brave Cartoonist and Former Political Prisoner, Is Arrested and Jailed
Atena Farghadani, a cartoonist and former political prisoner, has been arrested after being summoned to Evin Courthouse. On Wednesday, June 7, 2023, Atena Farghadani, a cartoonist and children's rights activist residing in Tehran, was arrested after being summoned to the interrogation courthouse of District 33 for interrogation. In a tweet, Mohammad Moghimi, her attorney, wrote: "My client Atena Farghadani, a painter, cartoonist, and former political prisoner, has been summoned and arrested at Evin Courthouse."
---
Tragic Death of a 26-Year-Old Female Worker in Neyshabur
A 26-year-old female worker from Neyshabur died after her scarf got caught in a plastic injection machine and pulled her in. The young woman was a mother of two children. She was not covered by social security insurance, depriving her of her fundamental rights under the law. The tragic death was caused by inappropriate work attire that did not comply with safety standards. The 26-year-old female worker and mother have not been identified yet. In at least two similar incidents in recent years, two other female workers also lost their lives.
---
Stockholm, Sweden—June 8, 2023: MEK Supporters Held a Rally in Support of the Iran Revolution
Stockholm, Sweden—June 8, 2023: MEK Supporters Held a Rally in Support of the Iran Revolution.
Stockholm, Sweden—June 8, 2023: Freedom-loving Iranians and supporters of the People's Mojahedin Organization of Iran (PMOI/MEK) held a rally, book, and photo exhibition of the Iranian uprising's martyrs in solidarity with the Iran Revolution.
---
Also, read Iran News in Brief – June 9, 2023