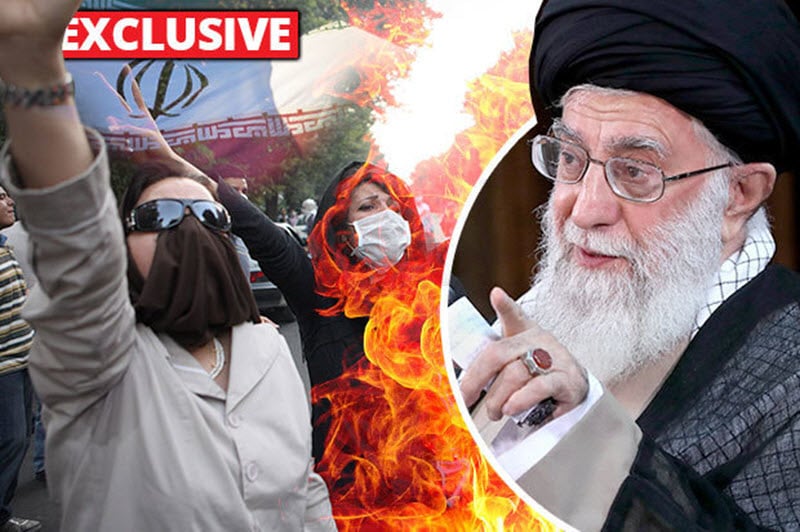 By Staff Writer
The ongoing Iranian uprising was sparked after the Middle Eastern country's economy began to spiral last year. Activists began their anti-regime protests in December 2017, as the Iranian people were pushed to the breaking point by rising prices, a falling rial, and a draft budget that cut subsidiaries for the poor and increased spending on the military.
Mohammad Hanif Jazayeri, editor of Free Iran – an anti-regime organisation, said that the current protests are no longer about a singular issue, but are instead directly challenging the Regime's authority.
He said: "While the protests began initially over the dire economic situation and mismanagement, the chants quickly turned political. Slogans such as 'leave Syria alone, think of us instead' undermine the regime's national strategy, while chants of 'death to the dictator' directly challenge the Supreme Leader's authority. Once an unimaginable sight, today chants of 'death to Khamenei', the leader and 'death to Rouhani' the President, are now the norm in protests of all sizes."
However, Jazayeri was quick to point out that the Iranian Regime was not turning a blind eye to these challenges and are cracking down heavily and violently on the protesters, which has led to the arrests of over 8,000 and the deaths of at least 65 in the first few weeks of the protest alone.
Not only are the protesters being killed or arrested during protest rallies, but they are also being closely monitored and followed. This means that protesters may be arrested several days later in their homes.
The Regime has really increased security in the streets of Tehran and other large cities, but is struggling to stop protests in more rural locations, with local security forces requesting backup from larger cities.
Since 1979, Iran has cut its ties to the West and become increasingly recognised as a pariah state because of its support for terrorism and regional interventionism. As such, many countries in the Middle East (i.e. Saudi Arabia and Israel) do not support Iran either.
The biggest worry that Iran caused the West was its development on nuclear weapons, revealed by the Iranian Resistance in 2002, which led to sanctions against the county and the 2015 nuclear agreement, which lifted sanctions in exchange for restrictions on its nuclear programme.
However, Donald Trump, who previously called it "the worst deal ever", withdrew from the agreement in May, citing Iranian cheating on the deal, and reimposed sanctions. This led even more Iranians to take to the streets demanding the overthrow of the Regime, seeing that the US was on the side of the Iranian people.
Jazayeri highlighted that the success of recent protests is the organisation of the people, focusing on an overall campaign, rather than self-contained events.
He said: "One way this can be seen is through the coordinated nature of the slogans that are being chanted from completely different sectors of society. For example, steelworkers in Ahvaz, down in the southwest, swindled investors in Rasht, in the north, and nurses and bazaar merchants in Tehran are chanting identical slogans. In recent months the People's Mojahedin Organisation of Iran (PMOI/MEK) has set up 'resistance units' whose goal is to organise anti-government protests. They've actually been very successful thus far, not least due to the public's support for their goal."