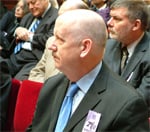 NCRI – Professor Bill Bowring, British barrister, was among many distinguished parliamentarians and jurists who addressed a symposium at the House of Lords on November 29 on the unjust proscription of the People's Mojahedin Organization of Iran. The following are excerpts of his address to the symposium:
My interest here is the protection and promotion of human rights, especially when human rights are threatened by anti terror legislation. That is especially the case with the PMOI, which is why I am here. All I want to say briefly is that the UK government has a track record in this regard. Not a distinguished track record at all.
Involvement and engagement in terrorism and advocating violence does not seem to be a reason why you get put on the terrorism list. The PMOI were placed on this list at the request of a despicable regime, a regime that happily kills women and children in large numbers. It is a persistent violator of human rights. There is no legal basis therefore whatsoever for the proscription of the PMOI. So I am delighted to be able to repeat that 1,300 British lawyers have signed a statement to that effect.
Stephen Grosz has already spoken about the action which is being planned by a large group of parliamentarians now to try to get the PMOI off that list. This is part of an extremely important context and that context is now that we have some really dreadful cases going through the European Court of Justice and recently in the High Court in this country, which appear to say that the measures taken in order to implement the UN Security Council resolutions on anti terrorism trump human rights standards.
All I want to say is I am looking forward strongly to a concerted attack by a tightly nit group of highly motivated lawyers, that is not something that you meet very often, to help to destroy the proscription of the PMOI, but also to get to the heart of the threat to human rights that is taking place now.