NCRI – Supporters of the Iranian Resistance from all over the world have staged demonstrations and protests in various countries to protest the growing wave of mass executions under the mullahs' regime.
The Netherlands – Dutch-Iranians and Resistance supporters in Holland began a three-day hunger strike and sit-in in front of The Hague on Wednesday, pleading with the Dutch government to end relations with Iran until executions are stopped.
Belgium – On Monday in central Brussels, the Association of pro-democracy Iranian Youth and Students in Belgium held a rally to protest last week's mass execution and to remember the victims of the 1988 massacre, in which over 30,000 political prisoners were killed by the regime.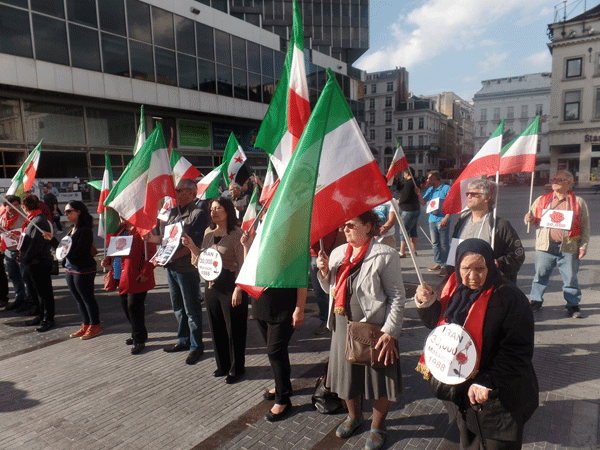 UK – Anglo-Iranian supporters of the People's Mojahedin Organization of Iran (PMOI or MEK) held a three-day protest, including a sit-in and hunger strike, in front of Downing Street from Saturday to Monday. They urged new Prime Minister Theresa May and her government to condition relation with Iran on an improvement to human rights.
 Germany – Supporters of the PMOI (MEK) gathered in Brandenburg place in Berlin on Saturday. They urged the international community and the United Nations to publicly speak out against these executions and prosecute those responsible for state-sanctioned mass murder which Amnesty International calls "crimes against humanity".
Denmark – Also on Saturday, protesters gathered in Denmark to raise awareness of the terrible atrocities happening in Iran and call for the leaders of the regime to be brought before the International Criminal Court for the 1988 massacre which, on the orders of Khomeini, killed 30,000 people, mainly PMOI (MEK) activists.
Canada – Canadian supporters of the Iranian resistance gathered in front of the federal Parliaments in Ottawa and Toronto on Saturday protesting the executions in Iran and remembering the victims of the 1988 massacre.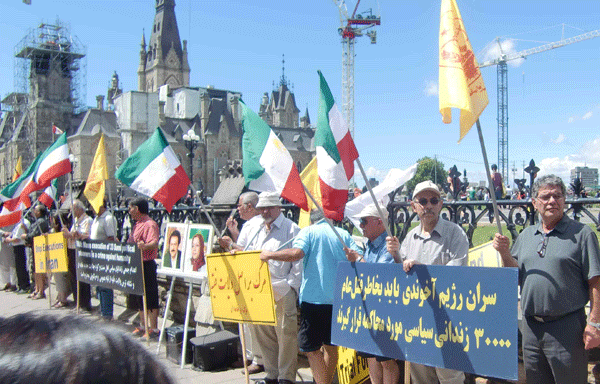 Switzerland – Swiss supporters of the PMOI held a rally opposite the UN's Geneva headquarters, last Friday, asking the global body to hold the Iranian regime's officials to account for crimes against humanity in the 1988 massacre and the ongoing atrocities. They staged a mock execution and plan to protest again this coming Friday, August 12.
Rallies are planned for Hamburg, Berlin and Stockholm on Thursday, August 11. The protests will include a three-day hunger strike to condemn the executions in Iran and ask their governments to support the prosecution of those responsible for 1988 the massacre.