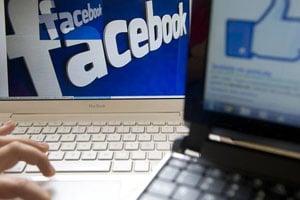 The Iranian regime is monitoring 8 million Facebook accounts with new software and will watch other social media sites for content that they consider improper.
Revolutionary Guards Corps (IRGC) has announced that it had arrested several Facebook users.The arrested Facebook users have been charged with various offences ranging from insulting religious figures to conducting immoral activities, according to reports by state-run media.
The country's Islamic Revolutionary Guards Corps (IRGC) is planning to monitor online crimes within the next two months on other social networks, including Instagram, Viber and WhatsApp, the official Islamic Republic News Agency reported Tuesday, quoting a statement from the guards.
Iran is blocking access to social media sites like Facebook, Twitter and YouTube but millions of Iranians easily get around this by using virtual private networks (VPNs).
The cyber security directorate will expand its "Spider" program to monitor other social media including Instagram, Viber and WhatsApp, the IRGC said.
In January, the Supreme Court in Iran confirmed the sentences of eight social media activists who have been sentenced to a total of 133 years in prison for criticizing the regime on Facebook.
The activists had been originally charged with "colluding and gathering against national security, propaganda activities against the system, insulting sacred symbols, insulting the head of the government branches and insulting specific individuals".
The eight individuals included six men, Massoud Seyed Talebi, Fariborz Kardarfar, Amin Kararmipour, Amir Golestani, Massoud Ghasemjani, Mehdi Rayshahri, and two women, Roya Saberi-Nejad Nonbakht, and Nagmeh Shahsavandi Shirazi.
The oldest is a 62-year old woman and the youngest is a 21-year-old man. They were originally arrested towards the end of summer 2013 by the Cyber Police in Iran.
The official news agency IRNA then reported: "Two of them were sentenced to 18 years and 91 days and 19 years and 91 days in prison respectively, with 50 lashes and fines of 1.3 million tomans ($500). Others in this case were sentenced to 21, 14, 20, 8, 11 and 16 years in prison."
The Iranian regime's Cyber Police are responsible for monitoring cyber activities. Their most notorious case was that of blogger Sattar Beheshti whom they killed in custody.
While social media sites such as Facebook, Twitter and YouTube are banned in Iran, some Iranian officials, including Foreign Minister Javad Zarif, have Facebook and Twitter accounts.