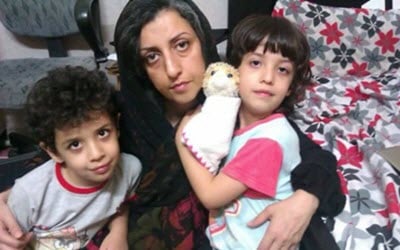 NCRI – Amnesty International have highlighted the recent news that the 16-year prison sentence against Iranian human rights defender Narges Mohammadi, who is critically ill, has been upheld by the Iranian regime's appeal court.
Their Research and Advocacy Director for the Middle East and North Africa, Philip Luther, said: "This verdict is yet another cruel and devastating blow to human rights in Iran, which demonstrates the authorities' utter contempt for justice. Narges Mohammadi is a prominent advocate of human rights and a prisoner of conscience. She should be lauded for her courage not locked in a prison cell for 16 years." 
He added that it is "harsh" and "appalling" that this sentence has been given for human rights work that has been carried out peacefully. He said it is clear that the authorities have "laid bare their intent to silence human rights defenders at all costs". 
Luther said that this sentence is even more shocking because it comes at a time when Iran's regime is preparing for renewed bilateral dialogue with the EU, and "given that Narges Mohammadi was convicted for her work campaigning against the death penalty and meeting with the former EU High Representative for Foreign Affairs". He said that this sentencing raises many doubts about Tehran's commitment to dealing with the EU over human rights issues. 
"Narges Mohammadi's conviction and sentence must be quashed and the authorities must order her immediate and unconditional release. We urge the EU to make these calls, too, and put the heightened repression of human rights defenders in Iran at the heart of their dialogue."