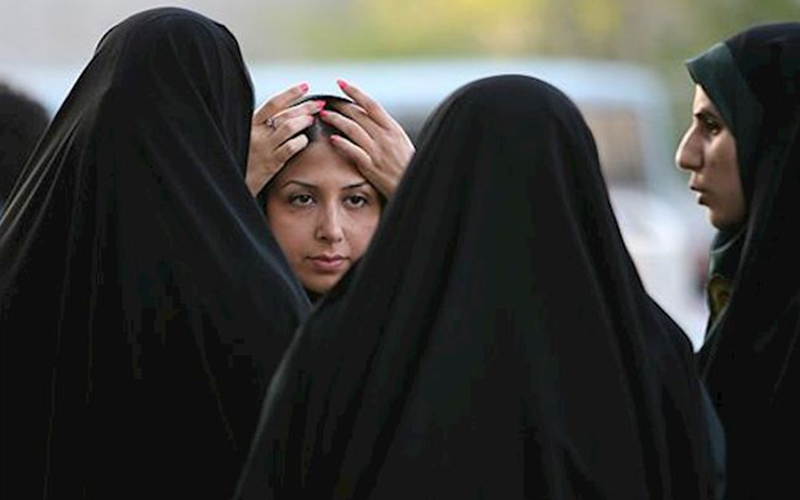 A new suppressive plan will be enforced across Iran from this weekend to further crack down on women for so-called "improper veiling."
The acting commander of the regime's Police, Ayyoub Soleimani, said the new plan, called 'Nazer 2,' or Observer 2, will go into force on Saturday, August 31, 2019.
The new plan is designed to put maximum pressure on women, according to the Women's Committee of the National Council of Resistance of Iran.
According to the new plan, Police will be present in public places, major stores, and beaches to give 'warnings' to women who are considered improperly veiled based on the regime's misogynist standards.
Soleimani said: "The plan is going to be implemented this week, and in every place which is more public, our presence and monitoring will be more serious."
The Iranian Regime's Police had already implemented the Nazer 1 plan to monitor women who remove their veils inside their cars.
Regarding the Nazer 1 plan, Soleimani said: "The degree of police success in this plan was over 80 percent in most provinces, and between 40 to 50 percent in Tehran."
He added, "We were successful in (Nazer 1) meaning that we have cameras, eyes (spies) and police present everywhere in all public thoroughfares."
Soleimani also stressed on the compulsory veil for women and on the need for implementation of Nazer 2 plan by citing the mullahs' supreme leader Ali Khamenei as saying that Hijab (or veil) is a religious issue and all managers must order its observation in government offices, the regime's official news agency IRNA reported on August 28, 2019.
Earlier this year, talking about the plan to send text messages to car owners, Hossein Rahimi, commander of Tehran's Police, stressed that the police are obliged by law to deal with any "illegal action" by women who refuse to succumb to the regime's misogynist laws. On April 25, 2019, IRNA quoted him as saying: "The police will identify and deal with those in vehicles whose passengers remove their veils."
Last week, the Iranian regime's Revolutionary Court in Tehran sentenced civil activist Saba Kord Afshari to 24 years in prison for protesting the compulsory hijab (veil) and refusing to give a "televised confession."
Saba Kord Afshari, in her early twenties, was repeatedly pressured to make video confessions, something that she strongly resisted and refused to do, according to the Women's Committee of the National Council of Resistance of Iran (NCRI). The Intelligence Ministry even arrested her mother, Raheleh Ahmadi, to bring further pressure and force her to force her make false confessions.