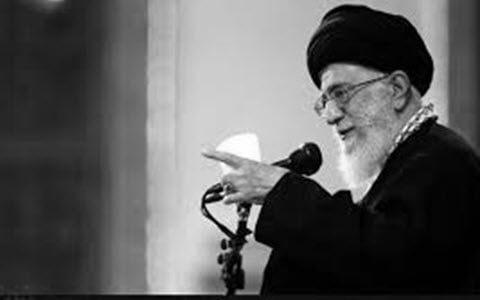 NCRI – At the beginning of Iranian regime's election show, regime's leader Ali Khamenei tried to portray himself as a non-partisan who was away from all clashes going on between regime's rival bands.
"I don't believe that the election has a winner or a loser", Khamenei said, "Since no matter who's going to have more votes, the regime is going to be the real winner of the election."
Shortly after these comments, however, Khamenei, who was playing the 'Godfather' role and had apparently forgotten he needed to somehow cover up and handle the conflicts coming to an end in his regime, attacked Rouhani to show his dismay over the remarks Rouhani made during his campaign, referring to them as 'improper words' while saying "although such remarks were not worthy of Iranian people, but people's widespread participation in the elections will eventually resolve such issues and make them ineffective."
Only two days after these comments and shortly after the announcement of the election show results, Khamenei received a major blow when it became clear that:
1. Despite Khamenei and regime leaders' begging people to go to the polls, the election show turned into a scene of regime's dishonor and defeat, with the made-up, astronomical turnout figures failing to bring the regime any power.
2. With Hashemi Rafsanjani's (one of the clerical regime's key figures since outset) death Iranian regime's leader was ready to pull Mullah Ebrahim Raisi out of the ballot boxes through a rigged election, but he had to accede to Rouhani's second term in a humiliating defeat.
3. As for Khamenei, he was seeking to make his regime unified and integrated and adopt a restrictive policy. He needed an absolute puppet, yes-man as president for saving face while confronting the international and regional storms, but Khamenei was weaker than being able to impose his will.
4. Khamenei needed to suppress popular uprisings and protests of overwhelmed people and to slap them down, as he put it. So he pulled Ebrahim Raisi out of the darkroom of ghosts and pumped him enough with such titles as 'the 96-percent government' and 'pro-poor candidate'. The main problem with bringing Raisi to the scene for Khamenei was, however, that the justice seeking movement and the name of MKO thereafter was once again put in the spotlight, forcing regime media to move towards regime's red borders.
5. In regime's election show, Khamenei sacrificed a figure to whom he desperately needed for the future of his regime and on whom he had invested as his successor. This investment, however, is already gone with the wind.
6. Disclosure of many of regime's 'unspeakable secrets' during the candidates' power struggles, televised debates, and campaign speeches more than ever revealed, and weakened as much, the entirety of the regime.
As a result, contrary to what Khmaenei said, the main loser of the regime's election show is Khamenei himself and the entire Mullahs' dictatorship.
On the flip side, the real winners are no doubt the people and the Resistance of Iran.
Overthrowing the religious monarchy is what the Iranian people and youth really want to vote for, while swapping pieces in an engineered, highly securitized and controlled show is not even an election, let alone a free election.
Due to a split at the top of the regime, Khamenei will be in a much weaker and more fragile position in Rouhani's second term. No doubt, Khamenei acceded to his least acceptable choice fearing the social explosion and the ever increasing popularity of Resistance of Iran. This is going for the worse in fear of the worst, with the consequences being clearly visible right now.