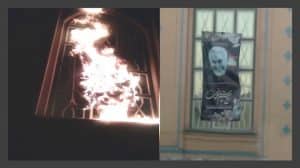 In the early hours of Friday, January 15, 2021, defiant youths targeted three repressive IRGC Basij bases in Khorasan Province in cities of Mashhad, Bojnurd, and Neyshabur, (northeast Iran) by setting fire to their entrance signs.
These actions, carried out despite the heavy security atmosphere, were in response to the execution of three Baluch compatriots by the clerical regime's judiciary on January 3, 2021. Two political prisoners, Hassan Dehvari and Elias Qalandarzehi, incarcerated for seven years, were hanged along with, along with another prisoner.
In another development, Friday morning, the defiant youth in Tehran torched a large banner of Qassem Soleimani, the eliminated commander of the terrorist Quds Force.
Secretariat of the National Council of Resistance of Iran (NCRI)
January 16, 2021