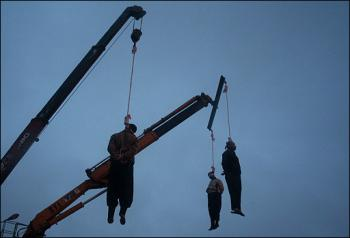 NCRI – The mullahs' regime hanged three prisoners identified as 60-year-old Rasool Mohammadi, 48-year-old Gholam Rahimi and 27-year-old Ismail Panjeh-Poor in the central city of Isfahan, reported the semi-official new agency Fars on Wednesday.
Another prisoner identified only by his first name, Abdullah A. was hanged in the northern city of Gonbad Kavoos, reported the state-run television on Tuesday.
The Iranian Resistance calls on the UN Secretary General, the UN High Commissioner for Human Rights, and all international human rights organizations to condemn the increasing number of executions by the Iranian regime. The Resistance also calls for referral of the human rights dossier of the ruling religious fascism in Iran to the UN Security Council.
Secretariat of the National Council of Resistance of Iran
April 17, 2008