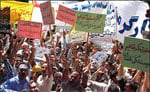 NCRI – More than 150 laid off workers of the Khavar textile factory staged a sit-in in front of the main Industries Building in Gilan Province, according to reports. The striking workers demanded seven months of their overdue salaries.
Khavar textile factory was one of six industrialized units operated by the Mine and Industry Bank which had been privatized two years ago. Over the past two years, more than 200 of its fulltime laborers have been laid off.
Poshesh, Fomanate, and Pars-Iran factories, in the northern city of Rasht, were shut down shortly after had been turned over to the private sector.
The Iranian Resistance calls on international labor organizations as well as human rights organizations to condemn the anti-labor policies of the mullahs' regime.
Secretariat of the National Council of Resistance of Iran
July 29, 2006