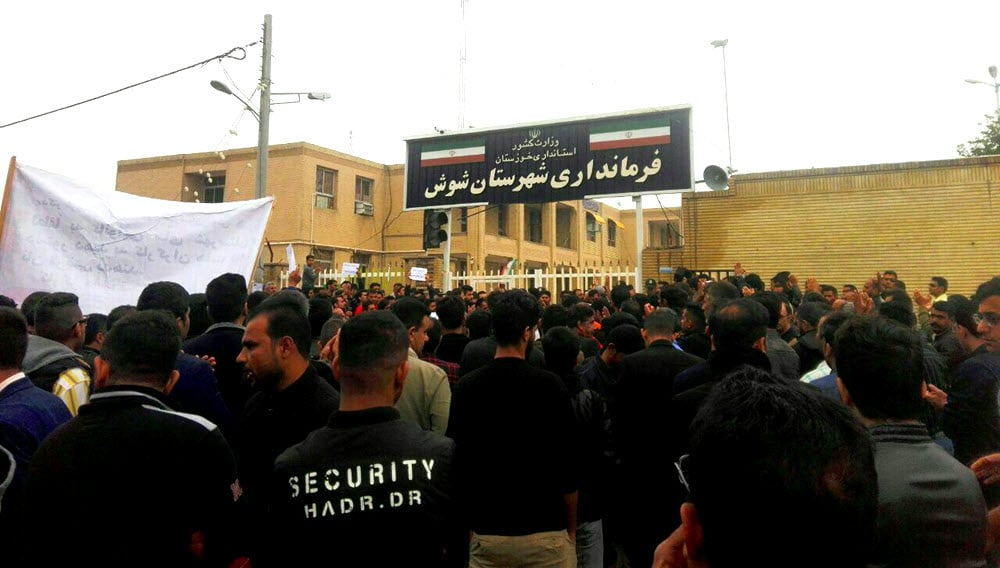 Iran Uprising – No. 228

On the morning of Tuesday, November 20, the strike and demonstration of the brave workers of Ahvaz Steel and Haft Tappeh Sugarcane mill continued.
Haft Tappeh Sugarcane workers rallied on the 16th day of their strike in front of the regime's governorate in the city of Shush, protesting the arrest of their colleagues. They chanted on the march to the city market: "Imprisoned worker must be freed; We are workers of Steel; we stand together; Lest we accept humiliation"
In Ahvaz, steel workers rallied in front of the Governorate on the eleventh day of their strike, despite the presence of a variety of repressive forces. They chanted: "We, the steel workers, fight against oppression; unemployment, inflation, the plight of people; inflation, high prices, respond Rouhani; be alert citizens, we are workers not thugs; we stand, we die; we get our rights back"
Workers carried banners reading: "The workers are awake, they hate exploitation; worker, teacher, farmer, the hard-working driver, unity, unity!" They then marched toward the governorate while chanting slogans in support of Haft Tappeh Sugarcane workers.
In Tehran, a group of workers of various factories and workshops held a protest rally in the Revolution street, demanding resolution to their problems and dire livelihood conditions. The workers had banners on which they wrote: "Employment, livelihood, is our absolute right; wage increase is our absolute right" The workers then rallied in the street of Revolution in Tehran.
At the same time, a group of students from Tehran University gathered in the central campus of the university in solidarity with the workers of Haft Tappeh and in support of their demands. The students chanted: "From Haft Tappeh to Tehran, toilers are in prison; We are children of workers, we stand with them."
Secretariat of the National Council of Resistance of Iran
November 20, 2018