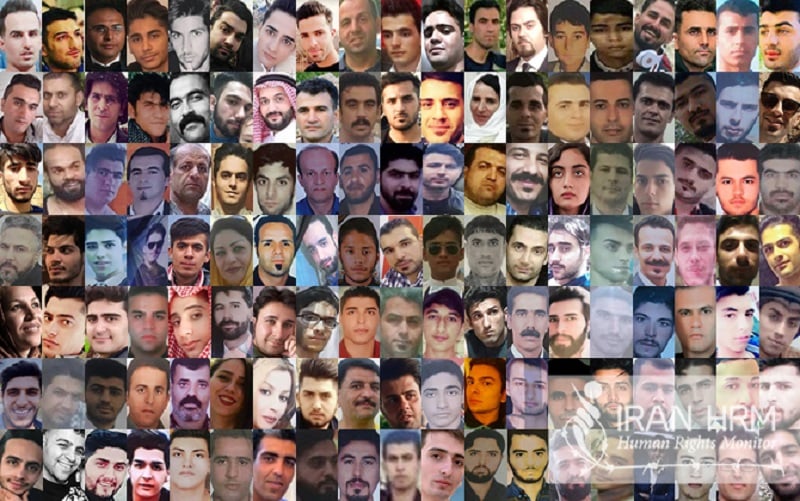 Iran Uprising – No. 44
46 more martyred protesters identified 
Mrs. Maryam Rajavi: World must condemn horrific crime against humanity, take action to stop it and free all prisoners; inaction is inexcusable and the regime will construe it as a green light to continue and intensify its crimes
, inside the country say have taken place in more than 189 cities, and that more than 1,000 people have been killed, another 4,000 injured and more than 12,000 have been arrested. must punish & prosecute the mullahs for crime against humanity. Inaction emboldens more slaughter & is complicity in crime.
— Mohammad Mohaddessin (@Mohaddessin) uprising surpasses 1,000. Inaction is inexcusable and the regime will construe it as a green light to continue and intensify its crimes https://t.co/GzLJmh8CAB pic.twitter.com/ItJRJKRgNl
— Maryam Rajavi (@Maryam_Rajavi) December 4, 2019
She added that inaction vis-à-vis the regime's massacre of Iranian people is inexcusable and the mullahs will construe it as a green light to continue and intensify their crimes and leave a deep scar on the conscience of humanity. Mrs. Rajavi called on the UN Secretary-General to send a fact-finding mission without delay to investigate the extent of the killings and visit detention centers in Iran.
Mrs. Rajavi also urged the UN Security Council and its president to declare the massacre of the Iranian people by the regime as a crime against humanity and to bring the heads of this regime and those responsible for this horrific crime to justice. She said that the international community must ostracize the bloody ruling dictatorship in Iran from the community of nations and bring to justice Khamenei, Rouhani, and the regime's other officials.
Names of 300 protesters killed:
Tehran – Majid Hessabi
Tehran – Seyed Hamid Taheri
Tehran – Ms. Nikta Esfandbani (14 years of age)
Tehran – Majid Fallahpour
Tehran – Ms. Mina Sheikhi
Tehran – Ms. Golnaz Samsami
Tehran – Sajjad Baqeri
Tehran – Fereidoun Kazemi
Tehran – Ali Behboudi
Tehran – Ali Morad-manesh
Tehran – Abdollah Ajarloo
Tehran – Ali Dahlir
Tehran – Yashar Alizadeh
Tehran – Peyman Nouri
Tehran – Mahmoud Vali-e Elahi
Tehran – Moussa Shahsavand
Tehran – Ali Shahsavand
Tehran – Hamzeh Shahsavand
Tehran – Khosro Bakhtiari
Tehran – Saeed Yousefi
Tehran – Hossein Yami
Tehran – Hossein Issavand
Tehran – Seyed Qassem Hosseini
Tehran – Erfan Faeqi
Tehran – Mehrdad Moin
Tehran – Payman Qolipour
Tehran – Majid Sheikhi
Tehran – Hossein Niaz
Tehran – Mehran Zahedi
Tehran – Siamak Navidi
Tehran – Esmaeel Arab Ahmadi
Tehran – Ali Ostovan
Tehran – Ms. Nasim Qorbani
Tehran – Yusef Dari
Tehran – Aria Sadeqi
Tehran – Esmael Rezaei Pirposhteh
Tehran – Taqi Ali-Loo
Tehran – Ahmad Morad
Tehran – Amir Alizadeh
Tehran – Qolamreza Qazi-Zahedi
Tehran – Yasin (Mujtaba) Ramezan-nejad
Tehran – Abolfazl Azarm
Tehran – Mohammad Reza Mohammadi
Tehran – Kianshahr – Mohsen Karaminia
Tehran – Robat Karim – Mohsen Hosseini
Tehran – Robat Karim – Mohammad Mahdavi
Tehran – Robat Karim – Iman Fatahi
Tehran – Robat Karim – Marzieh Abbas Zadeh
Tehran – Robat Karim – Abdolhamid Baqeri
Tehran – Robat Karim – Peyman Shahabi
Tehran – Robat Karim – Mohammad Mohebnia
Tehran – Robat Karim – Ali Kermanshahi
Tehran – Robat Karim – Alireza Zabeti
Tehran – Robat Karim – Alireza Shafaei
Tehran – Robat Karim – Maryam Nouri
Tehran – Qods – Hossein Shahbazi
Tehran – Qods – …. Alizadeh
Tehran – Qods – Javad Babai
Tehran – Qods – Navid Behboodi
Tehran – Islamshahr – Amir Reza Abdullahi
Tehran – Islamshahr – Iman Rassouli
Tehran – Islamshahr – Mohsen Jafarpanah
Tehran – Islamshahr – Arash Kohzadi
Tehran – Islamshahr – Mohammad Mehdi Haghgouy
Tehran – Shahriar – Reza Hassanvand
Tehran – Shahriar – Ebrahim Mohammad-pour
Tehran – Shahriar – Ms. Azadeh Zarbi
Tehran – Shahriar – Mehdi Paapi
Tehran – Shahriar – Hossein Ghadami
Tehran – Shahriar – Mehdi Da'emi
Tehran – Shahriar – Ehsan Shiri
Tehran – Shahriar – Milad Nahjevand
Tehran – Shahriar – Aliollah Amini
Tehran – Shahriar – Qassem Rezai
Tehran – Shahriar – …. Yar Mohammadi
Tehran – Shahriar – ….. Momeni
Tehran – Shahriar – Seyed Mohammad Hossein Tahaei
Tehran – Shahriar – Ali Qorbani
Tehran – Shahriar – Taqi Rahimi
Tehran – Shahriar – Nader Momeni
Tehran – Shahriar – Mehdi Golipour
Tehran – Shahriar – Behrooz Asqarpour
Tehran – Shahriar – Milad Mohaqeqi
Tehran – Shahriar – Mehran Jaboori
Tehran – Shahriar – Alireza Noori
Tehran – Baharestan – Ms. Fatima Habbibi
Tehran – Baherestan – Gol Agha Nouri
Alborz Province (Fardis) – Pedram Jafari Kamijani
Alborz Province (Fardis) – Ashur Kalna (Christian)
Alborz Province (Fardis) – Omid Salehi
Alborz Province (Fardis) – Mohammad Amin-allahqoli
Alborz Province (Fardis) – Babak Allah-Ejdehak
Karaj – Mallard – Hadi Sartipi
Karaj – Mallard – Sajjad Rezai
Karaj – Mallard – Mohammad Teymouri
Karaj – Mallard – Mohammad Khazai
Karaj – Mallard – Milad Darvish Mohammadi
Karaj – Dariush Zibanejad Monfrad
Karaj – Gholamreza Bahrami
Karaj – Omid Rezai
Karaj – Nasser Rezai
Karaj – Amir Hossein Kabiri
Karaj – Maysam Ahmadi
Karaj – Ms. Mahnaz Mehdizadeh Nader
Karaj – Morteza Sadeqi Nader
Karaj – Ebrahim Mehdipour
Karaj – Shahram Moini
Karaj – Mehrshahr – Hamid Rassouli
Karaj – Reza Mo'azami Goudarzi
Karaj – Poya Bakhtiari
Karaj – Hossein Qassemi
Karaj – Ms. Ameneh Shahbazi
Karaj – Amir Shokri
Karaj – Farhad Majdam
Karaj – Morteza Alizadeh
Karaj – Alireza Azadi
Karaj – Koroush Sheidani
Karaj – Ali Rahmani
Karaj – Mahan Faramarzi
Karaj – Saeed Hamidi
Karaj – Asqar Heshmatpour
Karaj – Sina Mohammadi
Karaj – Karim Baqeri
Karaj – Mohammad-Parsa Azizi-Moqadam
Karaj – Hossein Jamali
Karaj – Iraj Mishmast
Karaj – Sajjad Vatankhah
Karaj – Qasem Nematipour
Karaj – Mohsen Talivardi
Karaj – Ali Hosseini
Ahvaz – Mohammad Reza Ossafi Zargani
Ahvaz – Hamzeh Sevari
Ahvaz – Meysam Mojadam
Ahvaz – Reza Atieh Neisi
Ahvaz – Mohammad Barhi (Barbehi)
Ahvaz – Ali Tamimi
Ahvaz – Reza Shahmoradi
Ahvaz – Hamid Avi
Ahvaz – Mehdi Zargani
Ahvaz – Abbas Barihi
Ahvaz – Saeed Punki
Ahvaz – Kut Abdullah – Hamid Movahednejad
Behbahan – Mohammad Hossein Ghanavati
Behbahan – Javid Naaman
Behbahan – Mehrdad Dashtinia
Behbahan – Mahmoud Dashtinia
Behbahan – Ehsan Abdollah Nejad
Behbahan – Mohammad Hashamdar
Behbahan – Ms. Shabnam Diani
Behbahan – …. Taddayon
Behbahan – Farzad Ansari (Farzad Tazmipour)
Khorramshahr – Meysam Mani'at
Khorramshahr – Khaled Mani'at
Khorramshahr – Milad Hamidi
Khorramshahr – Meysam Abdolvahab Adgipour
Khorramshahr – Ali Ghazlavi
Khorramshahr – Ebrahim Matouri
Khorramshahr – Hassan Tamimi
Andimeshk – Abdullah Yaqoubvand
Andimeshk – … Najafvand
Andimeshk – Abdullah Lorestani
Ramhurmoz – Khuzestan Province – Hadi Ghorbani
Ramhurmoz – Khuzestan Province – …. Moussavi
Ramhurmoz – Khuzestan Province – Nabi Saeed
Ramhurmoz – Khuzestan Province – …. Rashedi
Shushtar – Ahmad Moussavi Jo'aveleh
Abadan – Ali Baghlani
Abadan – Hamid Beshareh Doraqi
Abadan – Ali Bavi
Mahshahr – Hamid Sheikhani
Mahshahr – Razzaq Nasserzadeh
Mahshahr – Ms. Atighi
Mahshahr – …. Hatavi
Mahshahr – Ghassem Bavi
Mahshahr – Mohammad Khaleghi
Mahshahr – Adnan Helali
Mahshahr – Mojtaba Ebadi
Mahshahr – Mansour Daris
Mahshahr – Abbas (Reza) Assakereh
Mahshahr – Ahmad Khajeh Albughli
Mahshahr – Ali Khajeh Albughli
Mahshahr – Mohammad Khaledi
Mahshahr – Youssef Khaledi
Mahshahr – Iqbal Esmaeeli
Mahshahr – Salem Amirsanjaran Eidani
Mahshahr – Farshad Hajipour
Shiraz – Kelar – Rassoul Ghavimi
Shiraz – Mohammad Reza Jamshidi
Shiraz – Marvdasht – Mehdi Nikoui
Shiraz – Amir Alvandi
Shiraz – Abdollah Ghavimi
Shiraz – Mehdi Nekoui Ali Abadi
Shiraz – Reza (Bahman) Jafari
Shiraz – Majid Hashemi
Shiraz – Janfeshan Assadi
Shiraz – …. Parsai
Shiraz – …. Parsai
Shiraz – Mehdi Jahanbazi
Shiraz – Mehdi Moqadamzadeh
Shiraz – Mohammadreza Khorshidi
Shiraz – Seyed Alireza Anjavi
Shiraz – Sadeq Ahmad-Panahi
Sirjan – Ruhollah Nazari Fat'habadi
Garmsar – Hassan Tavoosi
Sanandaj – Mozzafar Seifi
Sanandaj – …. Fa'eq
Sanandaj – Ali Baghlani
Sanandaj – Saneh Shahoo
Sanandaj – Mohammad-Reza Ahmadi
Sanandaj – Ziba Khoshgvar
Saqqez – Mohammad Heydarian
Somesara – … Kiaei
Bukan – Shelir Dadvand
Bukan – Ms. Hiva Naderi
Marivan – Mehran Taak
Marivan – Behrouz Maleki
Marivan – Usman Naderi
Marivan – Danial Ostovari
Marivan – Edris Bivareh
Marivan – Usman Ahmadi
Marivan – Ms. Aryan Rajabi
Javanroud – Hamzeh Naghdi
Javanroud – Farshad Kheirandish
Javanroud – Ali (Yunes) Firouzbakht
Javanroud – Yunes Houshangi
Javanroud – Kaveh Rezai
Javanroud – Jabbar Tejareh
Javanroud – Kaveh Mohammadi
Javanroud – Salman Rahmani
Javanroud – Ebrahim Moradi
Javanroud – Mobin Abdollahi
Javanroud – Omran Validi
Kermanshah – Hessam Barani Rad
Kermanshah – Esmaeel Qaderinia
Kermanshah – Mozzafar Zahiri
Kermanshah – Nader Biravand
Kermanshah – Nader Bijanvand
Kermanshah – Mohammad Mirzai
Kermanshah – Mozzafar Vatandoust
Kermanshah – Mostafa Farzami
Kermanshah – Yunes Ezzati
Kermanshah – Mostafa Bakeri  
Kermanshah – Abdollah Shahabadi
Kermanshah – Mansour Fakhri                     
Kermanshah – Ahmad Mansouri
Kermanshah – Faramarz Rahimi
Kermanshah – Abdolreza Shirzadi
Kermanshah – Borhan Mansournia
Kermanshah – Foad Joshan
Kermanshah – Nemat Hosseini
Kermanshah – Yunes Jalili
Kermanshah – Pouria Nasserikhah
Kermanshah – Saeed Rezai
Kermanshah – Javad Karami
Kermanshah – Bahman Azizi
Kermanshah – Milad Shirazi
Kermanshah – Hamzeh Faraji
Kermanshah – Sajjad Esmaeli
Kermanshah – Behzad Jooybareh
Kermanshah – Mohammad Palani
Kermanshah – Armin Qaderi
Tabriz – Ali Hosseini
Ardabil – Seyed Ali Fotohi Kouhsareh
Ardabil – Mahyar Qorbani
Ardabil – Arash Vakili
Langroud – Pejman (Ali) Gholipour
Yazdanshahr – Sassan Eidivand
Yazdanshahr – Rasoul Amani
Yazdanshahr – … Davoudvand
Isfahan – Mohammad Pour Pirali
Isfahan – Nematollah Shafiee
Isfahan – Javad Shiyazi
Isfahan – Arsham Ebrahimi
Isfahan – Safar Adivandi
Isfahan – Ahmad Qorbani Dastjerdi
Isfahan – Ebrahim Manssouri
Isfahan – Arman Armani
Isfahan – Amir Hossein Dadvand
Isfahan – … Shokrollahi
Isfahan – Saeed Baharloo
Isfahan – Majid Baharloo
Isfahan – Hossein Baharloo
Isfahan – Ali Sadeqi
Isfahan – Hassan Parvaresh
Isfahan – Pasha Ebrahimi
Isfahan – … Koleini
Isfahan – Behzad Moenifar
Isfahan – Yaqoub Najafi Hajipour
Isfahan – Saeed Asadzadeh
Isfahan – Mohammad Ebrahimi
Isfahan – Heydar Shiazi
Zanjan – Amir Hossein Abbasi
Rasht – Mohammad Reza Nikvaran
Rasht – Ms. Parisa Seifi
Saveh – Esmaeel Shojaee
Arak – Ali Assadi
Dezful – Sohrab Khaje-noori
Khorramabad – Omid Mohammad Mehrabi
Khorramabad – Morteza Moradi
Khorramabad – Farshad Darikvand
Secretariat of the National Council of Resistance of Iran
December 4, 2019