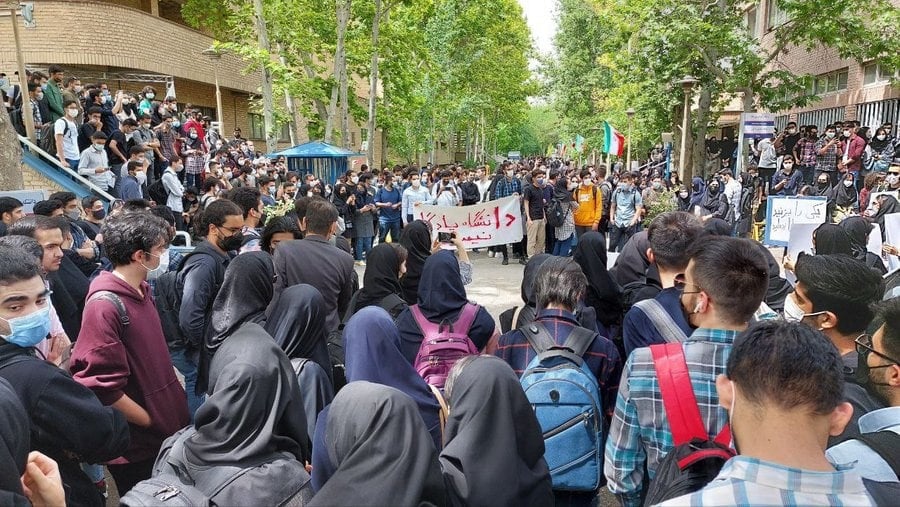 Amirkabir students' statement: Mahsa's murder is a symbol of 44 years of repression and brutality. People will bring to justice Mahsa's killers and all victims of the past four decades who have established their oppressive rule on murder
On the fourth day of nationwide protests, people, especially the youth, in Tehran, Mashhad, Rasht, Ahvaz, Isfahan, Neyshabur, Arak, Kermanshah, Khorramabad and other cities took to the streets on Monday, September 19, chanting, "Death to Khamenei."
In Tehran, people protested on Keshavarz Boulevard and Vesal, Kargar, and Italia streets and clashed with the SSF special unit. They chanted, "Shame on our disgraced leader", and "Khamenei is a murderer, his rule is null and void". Demonstrators, in which women played an active role, set fire to or overturned several cars of 'Guidance patrol' (morality police) and special unit. A number of protesters were arrested. Clashes continued until late at night. 
In Karaj, Mashhad, and Ahvaz, protesters chanted, "Fight and we will fight back", "Mullahs must get lost", and "I will kill whoever killed my sister."
On Monday morning, students staged protest rallies in many universities, including Tehran University, Sharif University of Technology, Amir Kabir University, Allameh University, Tarbiyat Mo'alem, Tarbiyat Modarres, Melli, Arts, and Isfahan University. 
Students of Amir Kabir University (Polytechnic) chanted, "I will kill whoever killed my sister", "Death to the dictator", "Iran is blood-soaked from Kurdistan to Tehran", and "Women are oppressed from Kurdistan to Tehran". Paramilitary Basij agents attacked the students, facing students' resistance who chanted, "Basiji, get lost!" The protesting students stated in a statement, "Mahsa's brutal murder is a symbol of 44 years of repression and brutality. The people will bring to justice Mahsa's killers and all victims of the past four decades who have established their oppressive rule of murder."
Tehran University students chanted, "Basijis! Your hands are tainted with the blood of our youths", "You are our killers", "In the name of religion and law, they have legitimized our murder", and "Poverty, corruption, and plunder! Down with this tyranny".
Students of Tarbiyat Mo'alem University chanted, "Kurdistan is the graveyard of fascists", and "Freedom is our right, our power is in our being together". Melli University students demonstrated, chanting, "Death to the dictator", "Death to this regime with its crimes over all these years", and "1,500 people killed in November (2019)".
Secretariat of the National Council of Resistance of Iran (NCRI)
September 19, 2022
September 20 – Tehran, #Iran
"The country will not be (prosperous) until the mullahs are gone!"
Beheshti University students are chanted in their protests over the killing of #MahsaAmini.#IranProtests #مهسا_امینی pic.twitter.com/EXFJRGWOH6

— People's Mojahedin Organization of Iran (PMOI/MEK) (@Mojahedineng) September 20, 2022
September 20 – Tehran, #Iran
Students of Iran University of Sciences and Technology protesting the killing of #MahsaAmini have been attacked by the regime's oppressive IRGC paramilitary Basij forces.#IranProtests #مهسا_امینی pic.twitter.com/ZnVs67wYQf

— People's Mojahedin Organization of Iran (PMOI/MEK) (@Mojahedineng) September 20, 2022
September 20 – Tehran, #Iran
Students of the University of Social Welfare & Rehabilitation Sciences are protesting the killing of #MahsaAmini.#IranProtests #مهسا_امینی pic.twitter.com/EVsW86e59d

— People's Mojahedin Organization of Iran (PMOI/MEK) (@Mojahedineng) September 20, 2022