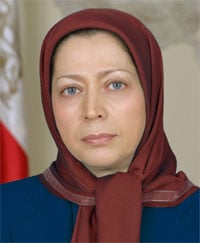 NCRI – Mrs. Maryam Rajavi, President-elect of the Iranian Resistance, strongly condemned the plot for assassination of Mr. Osama al-Nujaifi, Speaker of the Iraqi Parliament, that led to the injury of a number of Iraqi Members of Parliament and citizens. She offered her wishes hope for a quick recovery for those wounded in this terrorist incident.
On Tuesday 29 November, the Office of Iraqi Parliament's Speaker Mr. Osama al-Nujaifi announced that that the explosion inside the Green Zone had been a suicide bombing aimed at assassinating Mr. al- Nujaifi.
Mrs. Rajavi added: Concurrent with the departure of U.S. forces, Khamanei, whose declared policy is filling the U.S. power vacuum in Iraq, has obligated the terrorist Quds Force to have his agents and proxies in the government of Iraq to eliminate Iraqi national figures who are opposed to ominous domination of their country by the mullahs' regime on the one hand, and to foment sectarian disputes on the other. 
 
The President-elect of the Iranian Resistance called for an extensive international investigation into the recent explosions and terrorist operations in Iraq, especially the failed assassination plot against Iraq's Parliament Speaker, and disclosure of the role of Tehran rulers and their agents in the government of Iraq.
Secretariat of the National Council of Resistance of Iran
November 30, 2011