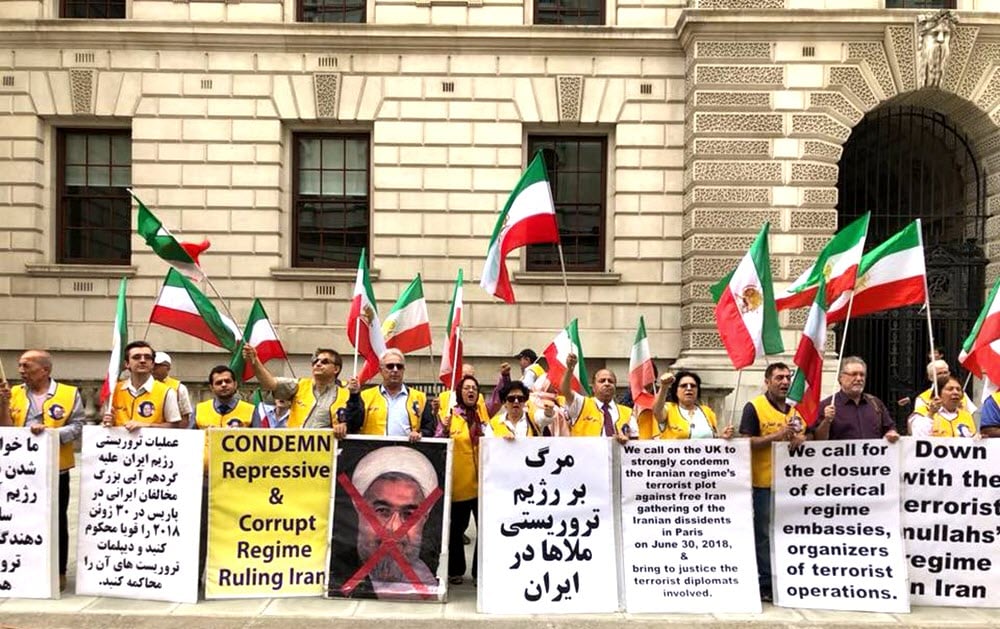 Call for immediate closure of embassies and expulsion of diplomat- terrorists, agents of intelligence and Quds Force
Federal Office for the Protection of the Constitution (BfV) in the Nordrhein-Westfalen province in Germany, in its 2017 report released this week, emphasized on the focus of Iran's Ministry of Intelligence (MOIS) against the opposition, in particular the People's Mojahedin Organization of Iran (PMOI/MEK) and the National Council of Resistance of Iran (NCRI,) and also its attempt to infiltrate the Iranian opposition in Germany. The report further added that the terrorist Quds Force has intensive activities throughout Germany.
The last year's report by the BfV had also reiterated that: "The official headquarters of the Iranian Regime's Ministry of Intelligence at its embassy in Berlin had an important role in reconnaissance activities of the secret service."
These reports once again prove that the immediate closure of the mullahs' regime's agencies in Europe, and the expulsion of its diplomat- terrorists, agents and the mercenaries of MOIS and the Quds Force is an urgent need, not only for the security of the Iranian refugees, but also for the security of European citizens.
The mullahs' regime, just like ISIS, proceeded for bombing among a huge number of people in Paris, with one difference that this act of terrorism was designed and implemented by the regime's official diplomats and intelligence agents in Europe.
The annual report of the BfV in the Nordrhein-Westfalen province specifies that the inelegance activities of the Iranian regime in that province, and across Germany, is primarily carried out by the MOIS, focused on spying on the opposition forces, in particular, the PMOI and the NCRI. The report adds: The MOIS is trying to spy on the opposition through infiltration, and also discrediting them via targeted propaganda. In addition, the MOIS plays an important role in conventional spying on political, military, economic and scientific fields.
According to the BfV report, the Iranian Regime's terrorist Quds Force is also intensely active throughout Germany. This force is a special unit of the Revolutionary Guards, which independently has intelligence, security and counter-espionage departments and is engaged in collecting information abroad.
Secretariat of the National Council of Resistance of Iran
July 20, 2018