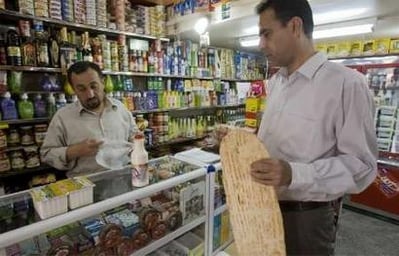 NCRI- Friday prayer leaders representing the Supreme Leader Ali Khamenei in the cities and towns throughout the country, expressed concern over Iran's bleak economic condition.
Abdollah Javadi-Amoli, in central city of Qom, Lotfi, in the western city of Elam and Ramazanipour in the southern Qeshm Island emphasized on an urgent need for lower prices and curb of the unbridle inflation, the state-run media reported on Friday.
"In the last year alone there had been enough talks [by the government] on controlling the inflation. But we continue to see high prices," said Ramazanipour.
Lotfi described the inflation as being "the greatest nuisance of the Iranian people," and called for implementing policies which would help control the economic difficulties.
Three years into the Ahmadinejad's presidency, Iran, the fourth largest oil producing country in the world, is facing high inflation; double digits unemployment, with a high percentage of youth out of job.
Photo: A grocery shop owner packs his customer's goods in Tehran, March 23, 2008.