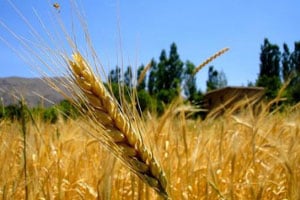 NCRI – The Iranian regime has imported 600,000 tonnes of European wheat in the past few weeks. One third of the imported wheat was bought from Germany, using money from billions of dollars of reserves blocked in Turkey and India and paid through intermediaries, the Reuters news agency reported.
The latest imports come as the official figures show that rice, sesame seed and wheat were the largest food imports in the first two months of this year.
Wheat trade sources told Reuters that 600,000 tons of German and Baltic wheat would be shipped to Iran in the next three months.
Despite the implementation of sanctions by Western governments, Germany remains a key trading partner with Iran.
Official figures on German-Iranian trade from 1950 to 2011 show that trade relations surged during the Ahmadinejad era.
The Economist World in Figures 2012 edition states Germany is third in the world in exports to Iran, after United Arab Emirates and China. In 2009, it delivered goods worth more than $4.3 billion to Iran and expanded the figure to $4.5 billion in 2010 and remained as high as $3.1 billion in 2011.
The Iranian regime's state run Press TV recently lauded the 'booming trade relations' between the two countries. This is while the Deutsche Bank is facing a penalty of more than $390 million for violations of sanctions on Iran.
The German Federal Ministry for Economic Cooperation and Development also recently sponsored an event that featured Tehran's Ambassador Ali Reza Sheik Attar, who has been reportedly implicated in the killing of civilians in Iran's Kurdistan region.