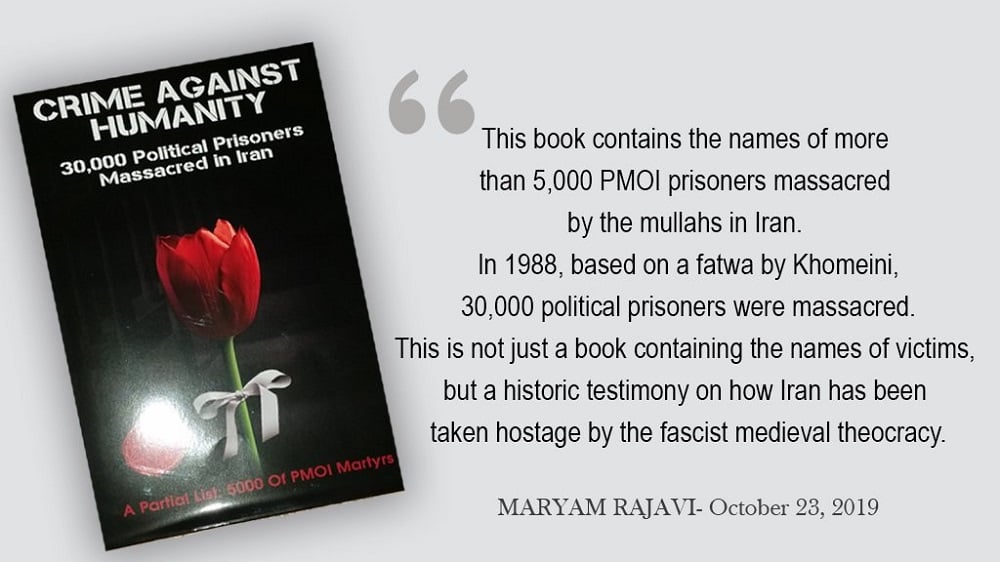 A new book "Crime Against Humanity" by , and for all the oppression inflicted on the people of is a nationalist commitment. It is our commitment and our steadfast resolve to achieve freedom. It is a staunch pledge to overthrow the mullahs' theocratic regime. of 30K political prisoners in (mainly activists) was held next to the National Assembly in . The largest massacre of this kind since WWII.
— NCRI-FAC (@iran_policy) October 30, 2019
Background to Iran's 1988 massacre:
More than 30,000 political prisoners were massacred in Iran in the summer of 1988.
The massacre was carried out on the basis of a fatwa by Khomeini.
The vast majority of ofthe victims were activists of the opposition PMOI (MEK).
Death Commissions approved all the death sentences.
Ebrahim Raisi, a member of the Death Commissions, is today Iran's Judiciary Chief.
Alireza Avaei, a member of the Death Commissions, is today Hassan Rouhani's Justice Minister.
The perpetrators of the 1988 massacre have never been brought to justice.
On August 9, 2016, an audiotape was published for the first time of Khomeini's former heir acknowledging that the 1988 massacre took place and had been ordered at the highest levels.