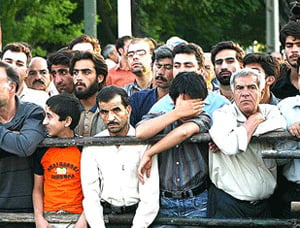 NCRI – According to the state-run daily Khorassan, July 3, a 33-year-old man was hanged in public in the southern city of Shirz yesterday. The man identified by his first name, Hossein, was alleged to have been involved in armed robbery but details of his case and mullahs' style trial was not available.
The judicial system under the religious dictatorship in Iran has been the subject of criticism by international human rights organizations. In the so-called revolutionary courts in Iran judge also acts as the prosecutor leaving no room for justice to prevail. This has been one of the main reasons for high number of executions in Iran allowing no scrutiny by independent competent bodies.
Since Ahmadinejad was appointed as the mullahs' president in July 2005, some 280 individuals have been executed or sentenced to death including girls and boys under the age of 18 according to state-owned media. The true figure is feared to be much higher as many secret executions are never reported by the media. The legal age under the clerical rule is nine for girls and 15 for boys.