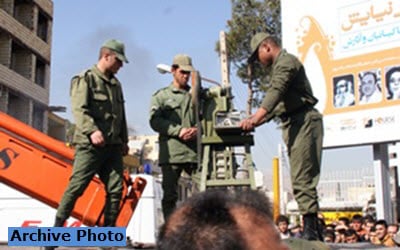 NCRI – Iran's fundamentalist regime has amputated the fingers of a man in his thirties in the city of Mashhad, north-east Iran, the latest in a line of draconian punishments handed down and carried out in recent weeks.
The inhumane sentence was carried out on Monday in the Central Prison of Mashhad. The state-run Khorasan newspaper identified the victim by his initials M. T., adding that he was 39 years old. The prisoner was accused of theft and is also serving a 3-year jail sentence.
The sentence was upheld by the regime's Court of Appeal.
The regime's prosecutor in Mashhad, Gholamali Sadeqi, said: "One of the most important policies in the current year is confronting criminals and carrying out sentences precisely and decisively."
Commenting on the amputation, Ms. Farideh Karimi, a member of the National Council of Resistance of Iran (NCRI) and a human rights activist, on Tuesday said:
"In the past two weeks the regime has carried out numerous medieval punishments including flogging a woman in public on April 27 in Golpayegan, approving a sentence to blind a man with acid, yesterday's hand amputation, and two public executions in Kermanshah and Nour on May 2. All of these point to the barbarity of the mullahs' regime which has unfortunately become more worrisome due to the international community's inaction."
"It is now incumbent upon [the UN Special Rapporteur of the human rights situation in Iran] Mr. Ahmed Shaheed to urgently take necessary and effective action to halt the wave of executions and medieval tortures," she added.