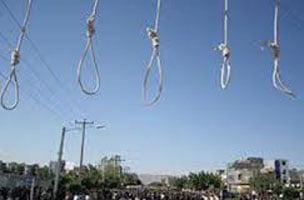 The wave of public executions is continuing in Iran with at least 32 hangings in the past two weeks under the rule of the regime's new 'moderate' president Hassan Rouhani.
On September 19, two prisoners were hanged, one in public and one in private, in the city of Tonekabon. Another named only as Ahmad was hanged the same day in Qazvin.
Five more, including two young men aged 18 and 23, were hanged in public in Ghaemshahr, Ilam and Dehdasht, and another five were hanged in the cities of Karaj and Qazvin.
Another four were hanged on September 18, in Rajai Shahr Prison, Karaj. One of those was named as Fardin Mohammadi, 24, who was arrested five years ago and had been held in a youth ward.
 In fear of the rising protests and its definite overthrow, the befalling clerical regime of Iran is resorting to various means of suppression inside Iran including waves of mass executions in the streets of various cities across the country. The regime also has in its agenda the massacre of the members of the People's Mojahedin Organization of Iran (PMOI/MEK) in Camp Ashraf who inspire the Iranian people and youth who are at their wits' end with this regime. No doubt, this will only intensify the Iranian people's abhorrence towards the broken regime of Khamenei.