THE CONTENT OF THIS PAGE WILL BE UPDATED WITH THE LATEST NEWS
UPDATE: 6:00 PM CEST
Former IRGC Commander Becomes Vice President for Economic Affairs
Following some feudal fighting around powersharing inside Khamenei's inner circle, Ebrahim Raisi appointed Mohsen Rezaei as the vice president for economic affairs, the secretary of the Supreme Council of Economic Coordination of the heads of branches of power, and the secretary of the Administration's Economic Headquarters.
Mohsen Rezaei was Secretary of the Expediency Discernment Council until the recent presidential election and he has also been the longest-serving IRGC commander in the regime's history. He was in charge of the organization that deceived and sent hundreds of thousands of young Iranians to war with Iraq in masses.
---
UPDATE: 5:45 PM CEST
No Second Dose Available
The deputy chief of the health department of Shiraz University of Medical Sciences said that a second dose of the Russian Sputnik vaccine is nowhere available in the country. The official requested patience from those who received the first dose, promising that the first dose would provide some safety after all.
Despite government officials claim that they had no problem importing the Russian vaccine, it has turned out that the drug mafia affiliated with the IRGC and Khamenei's office financed the import of a second dose of the Sputnik vaccine into a maze of corruption and looting. While other countries have created a higher rate of mass immunity for their nation, the rulers in Tehran continue to play with people's lives.
---
UPDATE: 4:30 PM CEST
Iran: Leaked Video Footage From Evin Prison Offers Rare Glimpse of Cruelty Against Prisoners
Leaked surveillance footage from Evin prison showing appalling abuse of prisoners serves as a chilling reminder of the impunity granted to prison officials in Iran who subject those in their custody to torture and other cruel, inhumane, and degrading treatment, Amnesty International said today. The organization has analyzed 16 leaked video clips, obtained from Iranian independent media outlets, which offer shocking visual evidence of beatings, sexual harassment, and deliberate neglect and ill-treatment of those in need of medical care, which Amnesty International has documented for years. The videos also reaffirm concerns around chronic overcrowding and solitary confinement in cruel and inhumane prison conditions.
---
UPDATE: 9:00 AM CEST
Yemeni Official Calls for An End to The Regime's Meddling in Yemen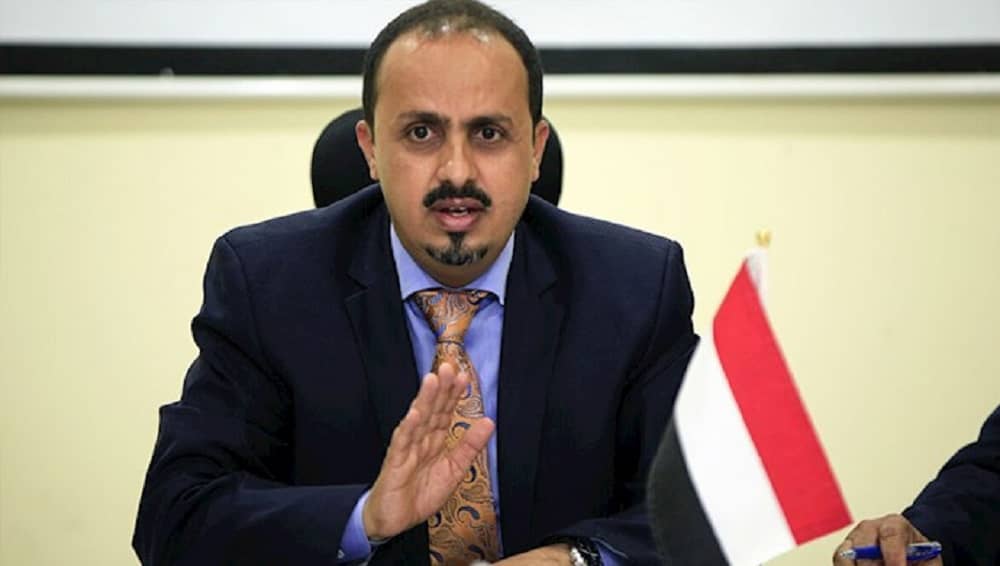 Regarding the new Iranian minister of foreign affair's remarks about continuing the roadmap of IRGC Quds Force slain commander Ghasem Soleimani, Moammar Al-Eryani, Yemen's Minister of Information outrightly condemned these statements and asked the international community to take action.
Eryani said: "Over the past four decades, under the guise of revolution, the Iranian regime has expanded the doctrine of chaos and terrorism, as well as the establishment and financing of sectarian militias. It has continued to sow instability and insecurity, especially in Arabic countries in order to provide favorable conditions for further intervention and the implementation of its ambitious conspiracies."
Condemning the aggression of the Iranian regime in Yemen, the Yemeni Minister of Information called on the UN Security Council to enforce the principles of the UN Charter and the provisions of international law and put pressure on the Iranian regime to stop its bold meddling in Yemen.
---
Iran: The Staggering Coronavirus Fatalities Surpasses 382,600
The People's Mojahedin Organization of Iran (PMOI/MEK) announced this afternoon, Tuesday, August 24, 2021, that the Coronavirus death toll in 547 cities had exceeded 382,600. The number of victims in Tehran has reached 89,946, Khorasan Razavi 26,785, Isfahan 25,350, Khuzestan 23,616, Mazandaran 14,875, East Azerbaijan 13,998, Fars 13,522, West Azerbaijan 13,453, Gilan 12,955, Sistan and Baluchestan 11,415, Alborz 11,168, Kerman 9,868, Golestan 9,175, Yazd 6,643, Hormozgan 6,630, Semnan 5,715, North Khorasan 5,074, Ardabil 4,705, Qazvin 4,249, and Ilam 3,793.
#Iran Coronavirus Update

More than 382,600 people have died of the novel #coronavirus in 547 cities checkered across all of Iran's 31 provinces, according to the Iranian opposition PMOI/MEK.

Full Reporthttps://t.co/sYvS79ZrDs pic.twitter.com/3CpxchPH5A

— People's Mojahedin Organization of Iran (PMOI/MEK) (@Mojahedineng) August 25, 2021
---
Iranians Rally in Sweden, Demand Justice for 1988 Massacre of Political Prisoners
Iranian expats held a large protest rally on Monday in Stockholm, Sweden, where an Iranian regime official is being tried for human rights violations, including involvement in the execution of more than 30,000 Iranian political prisoners in 1988. Hundreds of the family members of the Iranian regime's victims participated in this rally, calling for justice for their loved ones.
---
Iran's Future FM Vows To Support Terror Groups in the Middle East
The incoming foreign minister of the Iranian regime has once again stressed his dedication to terrorism in foreign policy. In the Sunday session of the Majlis (parliament), Hossein Amir Abdollahian, nominated to lead the foreign ministry under the Iranian regime's new president Ebrahim Raisi, vowed to support the "resistance front," an umbrella term the regime uses to refer to its proxy terrorist groups in the Middle East region. The regime is currently funding, training, and providing logistics support to more than a dozen terrorist groups in Iraq, Syria, Lebanon, and Yemen.
---
Police Parades Robbers Publicly Degrading Them in Western Iran
Iran's police public paraded 15 home robbers on the streets as a way to publicly degrade and humiliate them on August 22 in Khorramabad, western Iran. According to the state-run Tasnim News Agency, during the "ceremony" the Khorramabad Public and Revolutionary Prosecutor accused the home robbers of "Moharebeh" or waging war against God and said they would be sentenced to death. This is while they have yet to be tried. The 15 men were accused of armed robbery from homes in the past month.
---
Disaster: 3,000 Doctors Apply To Emigrate From Iran
From about 300 medical staff who have been killed so far by the coronavirus in Iran, 160 persons were doctors. And until now of nearly half of this number, their families have not received any government support. In such a dramatic situation whereby doctors and medical staffs whose value for a country is priceless have no support, they will lose their motivation to continue their work. Iran's medical council has about 320,000 members in all fields of medicine, dentistry, pharmacy, midwifery, and physiotherapy. Of this population, about 140,000 are members of the medical community who have studied in various specialties.
---
Official Figures of Child Marriages in Iran Paint a Worrying Picture
In a 9-month period in 2020, official figures highlight that a staggering 23,698 children in Iran between the ages of 10 and 14 were married. Under the laws of the Iranian regime, early marriage is not considered a crime in Iran, which sadly highlights just one of the examples of violence against women under the misogynistic rule of the mullahs' regime. Child marriage means rape. When a grown man marries a child, he abuses that child. Marriage must be after the end of puberty; otherwise, it can have no meaning other than rape.
---
Iran Supreme Court Rejects Retrial for Political Prisoner Vahid Afkari
The Iranian regime's Supreme court rejected a retrial requested by political prisoner Vahid Afkari, according to his lawyer. Vahid Afkari, brother to wrestling champion Navid Afkari who was executed by the regime last year after a faulty trial is currently detained in Shiraz's Adelabad Prison, in southwestern Iran along with his brother Habib.
---
Read more: Iran News in Brief – August 24, 2021