THE CONTENT OF THIS PAGE WILL BE UPDATED WITH THE LATEST NEWS
UPDATE: 9:30 PM CEST
Iran Fails to Fully Honour Agreement on Monitoring Equipment, IAEA Says
The U.N. nuclear watchdog said on Sunday Iran had failed to fully honour the terms of a deal struck two weeks ago to allow the watchdog's inspectors to service monitoring equipment in the country.
"The (IAEA) Director General (Rafael Grossi) stresses that Iran's decision not to allow the agency access to the TESA Karaj centrifuge component manufacturing workshop is contrary to the agreed terms of the joint statement issued on 12 September," the International Atomic Energy Agency said in a statement.
---
IRGC Research Center in Western Tehran Caught Fire
Iranian regime's Revolutionary Guards announced in a statement that one of its research centers in western Tehran has caught fire. The statement also said that three employees of the center were injured and taken to the hospital.
---
Most Iranian Families Can't Afford Education, Newspaper Admits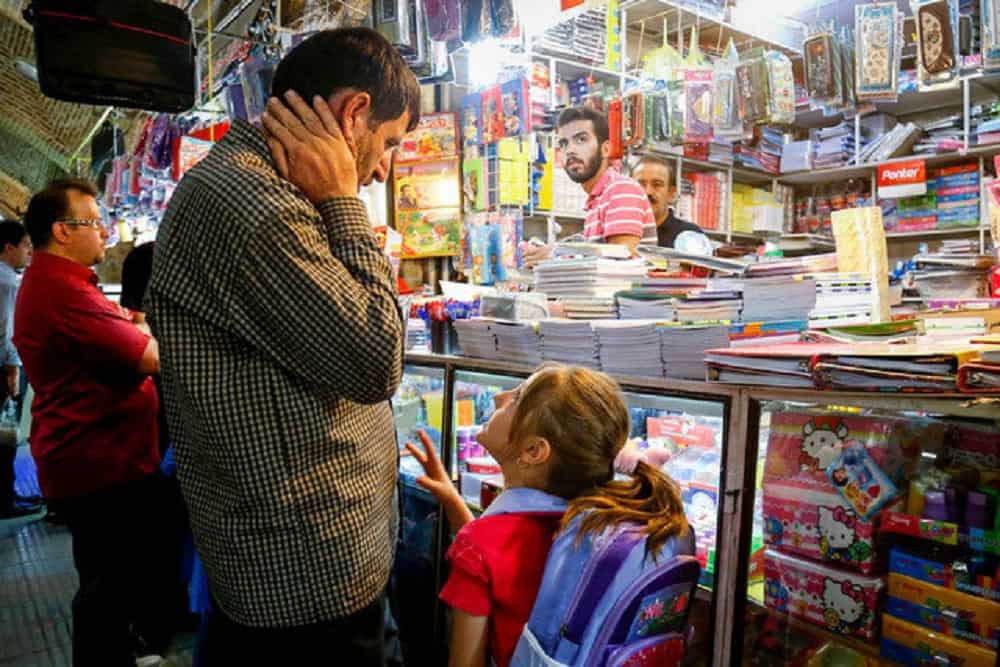 High inflation and deepening economic crises have led to a large number of students dropping out of school, and the excitement of starting the school year has turned into sadness for many. The current trend has even left state media unable to hide the facts.
The state-run Jahan-e-Sanat newspaper wrote: "In general, two million tomans are needed for students' stationery. Simple math shows a 100 percent increase in the price of stationery. Which families can afford such a high cost?"
Jahan-e-Sanat further explained: "The basic salary of a worker is 2,650 thousand tomans. Teachers get paid 3 million tomans (per month). How can nurses, part-time employees, seasonal workers and other groups whose wheel of life is hardly spinning, afford such prices?! These days, 7 deciles of the Iranian society are exposed to malnutrition and the people's table have shrunk 37% compared to the last year. In circumstances, paying 2 million tomans for stationery is unaffordable for many families."
The newspaper continued: "Some people… cannot afford meat and buy chicken and mutton bones. All the statistics and surveys show that if the skyrocketing inflation is not controlled along with unemployment, Iranians will be seriously malnourished in the coming years."
---
UPDATE: 5:45 PM CEST
Amid High Covid-19 Death Toll, State-run Newspaper Warns about Grave Consequences
Referring to the huge Covid-19 death toll in Iran and acknowledging the horrific consequences of the regime's failure to vaccinate the population, state-run Arman newspaper, wrote: "Who is to blame for these problems and the suspension of vaccinations in the last six or seven months? This wasn't just an administrative or even financial negligence that could have been compensated. As a result, thousands of compatriots lost their lives, and tens of thousands mourned. This isn't about a factional thing. Do we have to blame the former Minister of Health? Was the former president to blame? Has anyone sabotaged this? Did some people want this (vaccinations) to happen during the next president?"
Armen warned: "This is a national case with so many victims. There have been historical courts around the world for murder with lesser accounts. You have to respond to the people."
---
UPDATE: 1:00 PM CEST
Iranian Regime Robs The People to Compensate Its Deficit, Economist States
According to Hossein Raghfar, a state-linked economist, since the government wanted to reimburse this year's deficit, considering the lack of oil revenues and the stalemate in negotiations to revive the nuclear deal (JPOAC), many resources have been paid to private enterprises, so that only the net profit of 20 large enterprises in the last year amounted to 250,000 billion tomans, equivalent to the government deficit.
Today, state-run economic newspaper Donyaye Eghtesad quoted Hossein Raghfar as stressing: "The government continues to increase the prices of currency and energy such as gasoline to compensate for the budget deficit and therefore it's taking money from the pockets of the people."
---
UPDATE: 12:00 PM CEST
Skyrocketing Inflation Affect Prices in Iran
Reports from inside Iran indicate the rise of prices coupled with the increase of inflation. According to state-run Mardomsalary on October 3, the inflation rate has broken a new record during September and hit 45.8 percent, up 6 percent from the previous month. Even based on official data, this is the highest inflation rate during the last eight years per the annual index.
According to the source, the price of bread rose again in Alborz province, "oils and fats" topped the list with a 97% increase in price compared to the previous year, followed by the "vegetables" group with 93.8%, "milk, cheese, and eggs" with 72.5% and "fish and oysters" with 69.8% had the highest price increase compared to the previous year.
---
UPDATE: 9:00 AM CEST
Iran: Coronavirus Death Toll Exceeds 438,600
The People's Mojahedin Organization of Iran (PMOI/MEK) announced on Saturday, September 25, 2021, that the Coronavirus death toll in 547 cities exceeds 438,600. The number of victims in Tehran has reached 102,906, East Azerbaijan 15,503, West Azerbaijan 15,598, Alborz 12,848, Isfahan 29,180, Ilam 4,178, Khorasan Razavi 35,925, Khuzestan 26,866, Sistan and Baluchestan 12,500, Fars 15,714, Qom 12,055, Kurdistan 6,902, Kerman 11,632, Kermanshah 7,794, Kohgiluyeh and Boyer-Ahmad 3,179, Golestan 9,940, Gilan 15,315, Lorestan 14,760, Central Province 8,018, Hamedan 8,268.
#Iran Coronavirus Update

More than 438,600 people have died of the novel #coronavirus in 547 cities checkered across all of Iran's 31 provinces, according to the Iranian opposition PMOI/MEK.

Full Reporthttps://t.co/m2qb4XiEW9 pic.twitter.com/7eiUKUZU2D

— People's Mojahedin Organization of Iran (PMOI/MEK) (@Mojahedineng) September 25, 2021
---
Iran: Teachers Hold Rallies in Several Cities, Protest Regime Policies
As Iran marked the beginning of the new academic year on Saturday, active and retired teachers and education workers held rallies across the country, protesting the regime's destructive policies. The demonstrations were held in front of the education ministry and government offices in Tehran, Kermanshah, Shiraz, Marivan, Saqqez, Bojnurd, Isfahan, Mahshahr, Sari, Kuhdasht, Ilam, Andimeshk, Ashknan (Fars province), Zanjan, Masiri (Fars province), Yazd, Torbat Heidarieh, Shirvan (North Khorasan), Behbehan, Sanandaj, Khorramshahr, and other cities.
---
"I Gave Birth in Solitary Confinement" — Shocking Account of Iran's Prisons
Countless families across Iran have been devastated by the summer 1988 massacre that resulted in over 30,000 political prisoners being executed by the mullahs' regime. The majority of the victims, above 90 percent according to various accounts, were members and supporters of the Iranian opposition People's Mojahedin Organization of Iran (PMOI/MEK), indicating the regime's specific intent to literally eradicate the entity it considered its main threat.
---
Iran's Government From 'Vaccine Production Hero to Vaccine Import Hero'
It has been more than one-and-a-half years since the arrival of the coronavirus in Iran with a devastating tsunami of death. Now we are witnessing the daily death of about 500 people, and Iran is far behind those countries to be able to control the coronavirus successfully. The behavior of government officials dealing with this virus is behind the vitrine of comparison with other countries.
---
Iranian Bahai Mother and Son Detained in Shiraz SW Iran
An Iranian Bahai mother and son were detained on September 23 in Shiraz, southwestern Iran. According to the Human Rights News Agency, they were identified as Haideh Mosali Nejad and her son Mehran Mosali Nejad. On September 22, security forces raided her home and confiscated some of her personal belongings but were unable to arrest her since she was not home. Their homes were raided twice before. On September 22, security forces detained Moein Misaghi and Negareh Qaderi in Shiraz and took them to an unknown location. An informed source said the home of Mr. Misaghi was also searched by security forces in March.
---
Kurdish Prisoner Died Under Torture in Tehran Prison
A Kurdish prisoner died under torture on September 23 at the Greater Tehran Penitentiary. The man was identified as 22-year-old Amirhossein Hatemi. He was from Ilam, western Iran, and residing in Tehran. An informed source said he was killed under severe beatings of batons to his head by the prison guards. The source said Amirhossein was working in one of Tehran's bazaars when he was detained for getting into a fight with another citizen.
---