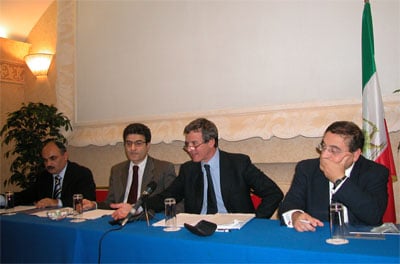 NCRI, October 18 – The legal cases against members of the National Council of Resistance of Iran and the supporters of the People's Mojahedin Organization of Iran in Italy on terrorist charges were declared officially closed. The closure was announced in a press conference in Rome on October 13.
In statements issued by Italian Prosecutor, Dr. Francco Ionta and the investigative judge Dr. Carmelia A. Russo, it was announced that following the probe into allegations against NCRI members and supporters of the Iranian Resistance in Italy no credible evidence existed. The cases were therefore declared officially closed.
In the course of investigations, the Italian anti-terror police reported that over the years, no activity by the PMOI and NCRI had been recorded in Italy which amounted to harmful practices against the interests of Italy. Therefore, there was no longer any justification to continue with further investigations.
Several distinguished Italian personalities addressed the conference over this matter in support of the Resistance. They included Senator Mario Cavallaro from the Margarita Party and Michele Ranieli, member of the Italian parliament from the Christian Democratic Party. Paolo Sodani, defense lawyer for Iranian Resistance in Italy, Mahmoud Hakamian, member of the NCRI Foreign Affairs Committee and Esmail Mohadeth from Iranian community residing in Italy also addressed the conference.
Responding to this decision, PMOI Secretary General Sediqeh Hosseini stressed that any investigation into the PMOI by judicial establishments in countries not influenced by the mullahs would only unveil the mullahs' misinformation campaign and baseless allegations against the Iranian Resistance.
She called on supporters of the Iranian Resistance in Italy to continue their peaceful political campaign against the ruling mullahs in Iran within the country's legal framework, as they have done over the past 25 years.