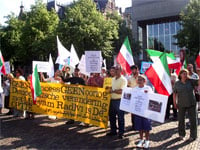 NCRI – The seventh anniversary of student uprising in Iran on July 9, 1999, was marked by a rally in The Hague, The Netherlands, by Iranians and supporters of the Iranian Resistance outside the Dutch Parliament.
The 1999 student uprising which went on for several days shook Tehran regime and it was only put down by brutal suppression. A number of students were killed by State Security Forces, plainclothes and the Intelligence Ministry agents. In attacks against student gatherings and raids on their dormitories, dozens were arrested and many more injured in clashes.
The Hague rally was welcomed by political and human rights organizations and personalities and among speakers were Emil Tuytel, Foreign spokesman of the Dutch Young Liberals. In his enthusiastic speech he praised the struggle of Iranian students for freedom and democracy in Iran and wished them success.
The rally received warmly by the general public and many expressed their support to the participants and the proposed plan by Mrs. Maryam Rajavi, President-elect of the National Council of Resistance of Iran, for democratic change in Iran relying on Iranian people and their Resistance.