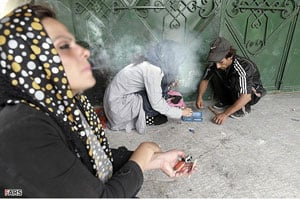 NCRI – There are now at least ten million drug addicts in Iran – or more than one in eight of the entire population, the regime's parliamentary Health Commission has admitted.
Commission member Rasoul Khazari also revealed that the cost of addicts to the country was one billion dollars a year, which is equal the Iran's annual health budget.
Khazari said: "The number of female addicts has doubled and the addiction age has also dropped. While inflation has struck all goods, the price of (methamphetamine) 'glass' has fallen sharply.
"At the same time, a harsh bureaucracy rules the NGOs working with addiction. Where else in the world does a doctor have to wait for medicine to treat addiction? This is at a time when at least 10 million people are suffering from addiction."
Khazari's comments come after an Iranian drug control official said recently that cocaine and marijuana had become 'lifestyle' drugs for women in Tehran.
The use of opium and glass was also soaring among female users, Taha Taheri, deputy of Iran Drug Headquarters Control (IDHC), said.
Hamid Saremi, the general director of the research and education staff at IDHC, also reported this month that of the 45 per cent addicted women under the age of 30, 25 per cent of those are between the ages of 20 and 30, and half are between 15 and 19.
Critics have accused the regime's authorities of themselves controlling many of the gangs that distribute drugs in Iran as well as in Europe.